Children born on 9/11, others discuss this day
Students speak on Twin Towers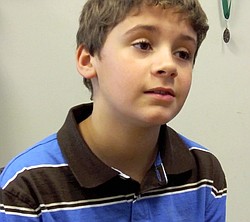 Video
Students talk about the Twin Towers and 9/11
By Ashley Luthern
aluthern@vindy.com
AUSTINTOWN
Ask Alexis Johnson what she thinks of when she hears the phrase "Sept. 11," and she smiles.
"My birthday," she said.
But that doesn't mean this fifth-grader at Frank Ohl Intermediate School is not aware of what comes to other people's minds.
Her family explained to her what else happened on 9/11 on her third birthday.
"They just told me that this is a very special day," she said. "... They told me that terrorists crashed a plane into the Twin Towers, and millions of people died."
How did she feel when she found out her birthday shared a connection with a terrorist attack?
"Not very lucky," she said.
Her fellow Frank Ohl student, Jacob Cheeks, also turns 10 today.
"I was pretty surprised," Cheeks said of when his parents told him.
He said he was about 3 when his parents first discussed 9/11 with him. "It made me feel kind of weird," he said.
However, other than sharing a birthdate with 9/11, both children said they don't
really think about the attacks.
"It doesn't really affect me," Cheeks said.
Alexis and Jacob are among the millions of children born since 9/11 who are too young to remember that day firsthand.
Experts said all children can be affected by 9/11 and 9/11 media coverage, even if the attack didn't harm anyone they knew.
Kyle Anderson, a fifth-grader at Frank Ohl, said his parents showed him a YouTube video of the attacks, and he was "surprised and quite astonished."
What surprised him most, he said, was that somebody would purposely destroy a national structure with innocent people in it.
"That's the thing that's frightening to all of us," said Dr. David Chiarella, a local pediatric and adolescent psychologist.
Chiarella said 9/11 created anxiety in all Americans.
"Before, we had this false sense of
security," he said. "...What they did there was almost break the American psyche by saying we can and did get to you, and it was easier than you [thought]."
Tessa Wirtz, an eighth-grader at Austintown Middle School, said 9/11 didn't affect her personally at all because her family remained safe. But asked later what Americans should remember, she said people should be cautious.
"Even at the strangest times, anything could happen," Tessa said. "We should
always be aware of ourselves."
Sixth-grader Andrew Stehura said he sometimes worries about another terrorist attack occurring on 9/11, and that he felt horrible when he first learned about 9/11.
"All the families had to go through having other family members die," he said.
Chiarella said the 9/11 anniversary
triggers feelings that might be latent during the rest of the year.
"You have to re-experience the meaninglessness, the idea that life is quite fragile," he said.
It's important to limit children's exposure to 9/11, said Melissa Peace, manager of the Children Who Witness Violence Program at Akron Children's Hospital.
"There are really no reasons to expose your kids to that, especially most of the kids who don't remember 9/11," she said.
Peace said viewing acts of terrorism could create more trauma for children.
"When something's done in a terrorizing manner, children lose their sense of security and safety," she said. "It creates fear and anxieties."
Still, she urged parents to talk about it if their children had questions.
"We grew up in a generation where parents thought, 'Don't talk about it and [children] will forget about it.' It's really better for people to talk about it and just because kids are not talking about it, doesn't mean they're not affected," Peace said.
Chiarella said parents should take their cues from their children.
"The kids who are most affected by the anniversary, and particularly the 10-year anniversary, are those kids that have been personally affected by it in some way, if their parent was injured or died, kids that have [family] in safety forces and children that live in high alert areas," he said.
Jared McHenry, 17, a junior at Austintown Fitch High School, remembers 9/11 well. His dad is a local firefighter, and his brother now serves in the military.
"I was at Lloyd Elementary and looking at the principal's office and I saw, I thought it was a movie, but it was the plane actually going" into the World Trade Center, he said.
His family explained what was going on to him that day. After the attacks, his parents placed a portrait of firefighters lifting a flag at ground zero on their living room wall.
"I think about it a lot. I pray every night that another attack won't happen like that," he said.