Big plays power unbeaten Girard
Warren JFK vs. Girard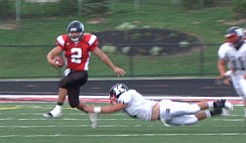 Video
Warren JFK vs. Girard highlights
Warren JFK vs. Girard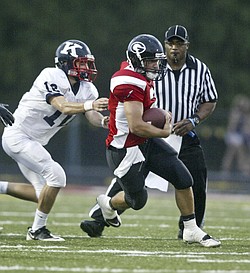 Gallery
Team

| Record | Div. | Conf. |
| --- | --- | --- |
| 9/2 | Div. IV | All-American Conference Blue Tier |
Team

| Record | Div. | Conf. |
| --- | --- | --- |
| 3/6 | Div. VII | North Coast League |
By Tom Williams
GIRARD
Big-play dominance against previously unbeaten Warren JFK has the Girard High football team feeling something magical.
"We have a connection that I don't think any other team can have," said running back Ahmad Eggleston after he rushed for 203 yards and three touchdowns on 11 carries in the Indians' 49-17 victory on Friday at Arrowhead Stadium. "We tell each other that we love each other every day.
"We shake each other's hands, we hug each other for relief," Eggleston said.
There was little need for consoling on the Indians' sideline — five of their six offensive touchdowns were scored on drives of three plays or fewer.
When it was suggested that his team's play was almost flawless, Girard head coach Nick Cochran quickly responded that there are "a few things" that need attention."
With the Indians (3-0) ahead 35-3 in the third quarter, an unsportsmanlike conduct call on one of his players raised his ire.
"I can't stand it, it's not necessary, we can't have that — just walk away," Cochran said. "We had too many penalties, we got greedy on a couple of things."
Late in the first quarter, the Indians scored first when quarterback Dan Graziano hit wide out Branden Byrd on the fly at the Eagles 39 and the speedy receiver raced into the end zone.
"Danny made a good read and called the play," Cochran said. "Those two work hard."
Byrd said Graziano noticed the safety coming over on a couple of previous plays.
"So he told me to act like I was cracking, then run the post," said Byrd who described the throw "as real perfect. That was a real good ball."
In the first half, Byrd caught five passes for 133 yards against the Eagles (2-1).
"I've never had that happen before," said the senior who said he had no idea what his numbers were at halftime. "That feels real good."
The Eagles responded with a drive to the Indians 2. But three straight plays for no gain or a loss set up Eric Bofenkamp's 24-yard field goal for a 7-3 score.
The Indians seized control with three second-quarter touchdowns First, Graziano broke free for a 20-yard touchdown run.
Then Eggleston shed at least three tacklers for a 57-yard gain to the Eagles 2. Two plays later, Eggleston scored for a 21-3 lead.
Graziano connected again with Byrd for a 34-yard score and 25-point lead at halftime.
Eggleston had two touches in the third quarter — touchdown runs of 58 and 57 yards.
"I give all the credit to my line and their intensity," said Eggleston, referring to Alex Walp, Eric Augustine, Brandon Martuccio, Josh Danko and Joey Buonavolonta.
The Indians' other score came on Jake Carpenter's 11-yard interception return. Also in the fourth quarter, Eagles backup quarterback Michael Roscoe ran for touchdowns covering 53 and 7 yards.
Graziano completed all his six of his passes for 140 yards.