Anthony Pesce - LINE BUSTER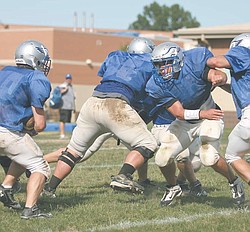 Photo
Anthony Pesce, second from right, rushes through the line at a recent Hubbard High School practice.
Team

| Record | Div. | Conf. |
| --- | --- | --- |
| 5/5 | Div. IV | All-American Conference White Tier |
HUBBARD
In football years, Anthony Pesce has more time as a letterman — two — for Hubbard High's team than the age of his one-full-year-old school building.
Strange, but true.
So it's not unfathomable that coach Brian Hoffman is counting on the senior's experience and maturity to fortify the Eagles' foundation this season.
"To me, Anthony epitomizes the tough, hard-nosed football player," the fifth-year coach said. "He's been a leader for us in the off-season and he's somebody who returns from last year's squad with a lot of experience. He'll play on both sides of the ball."
Pesce and fellow inside linebacker Tyler Karabin anchor the defensive unit and make the calls.
"Both of those guys had over 100 tackles in 2010," Hoffman said. "So when you have that coming back into the 2011 season, we're fortunate to have those two in their roles."
Karabin banged up his shoulder in the Eagles' season-opening 37-31 loss to Poland, then didn't play in a 51-14 win against Collinwood, but will return this week against East, a team Hubbard beat in both 2008 and 2009.
Pesce, who just turned 17 in June, eyes to duplicate that output.
"I'll manage to do the best I can and get as many tackles as I can to help our defense. Hopefully, we'll make the playoffs and get as far as we can."
That would be — at least — one more game than last year's opening-round loss to Akron St. Vincent-St. Mary.
"That's probably the hardest our team's ever played," Pesce said. "We held up with them, but, in the end, they got the best of us," he said of the 27-19 loss.
"We're looking to come back this year and do the best we can and try to make it past that round."
As a sophomore, Pesce was on special teams and played a lot with the junior varsity.
As a junior, Pesce started at linebacker and alternated on offense.
"I see myself as more of a defensive player," Pesce said.
"Mentally, I try to make good reads and, physically, I try to hit the other team as hard as I can and I try to lead the defense," the 5-foot-11, 215-pound Pesce said.
In Hubbard's two games, Pesce has 19 tackles: 15 solo and 4 assisted. In the Collinwood blowout, he saw only 16 minutes of action.
Although the offense lost a lot of skilled players, the line has several starters back.
Pesce says he's the smallest of the linemen, noting that A.J. Pantone is 6-0, 300; Ben Stoner 6-3, Addison Agler 6-2, 280 and freshman Matt Jones 6-3, 280.
Despite the size discrepancy, Pesce, the left tackle who graded out at 85 percent blocking so far, says he thinks he holds his ground.
"I stand out there with them," he said confidently.
Anthony, the son of Tony and Lisa Pesce, has athletically connected siblings: Gianna, a 15-year-old sophomore cheerleader; Salvatore, a 12-year-old middle school football player and Santino, a second-grader who scored his first touchdown in a Little Eagles victory over Girard recently.
Hubbard will still employ a spread offense, but with a little more emphasis on running.
"We lost a lot of skill in the receivers," Pesce said. "I think we'll still pass, but, we'll be more run-based."
When Hoffman needs leadership, he looks to No. 57.
"He's a well-rounded young man. He does a nice job in the classroom and does a nice job with us in the community as well in our off-season pursuits. He exemplifies what a high school football player is all about and I'm glad to have him on our team."
Quarterback Ashton Owens has filled the big shoes of Mike Lopuchovsky, now at Ohio State.
In the Eagles' opener, Owens, a senior, completed 15 of 21 passes for 243 yards and four TDs. Against Collinwood, he was 2 of 8 for 33 yards and scored the game's first touchdown on a 2-yard run less than two minutes after the opening kickoff.