Young Falcons learning to fly
Fitch vs. Poland Girls Soccer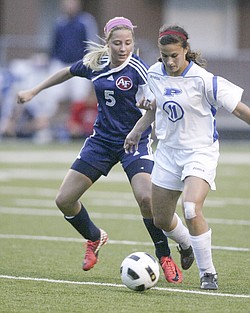 Gallery
Fitch at Poland Girls Soccer
Austintown Fitch shocks veteran Poland squad with two second-half goals in All-American
By Doug Chapin
POLAND
Forget the fact that Austintown Fitch High started five sophomores and had a 2-2 record coming into Wednesday night's girls soccer contest at Dave Pavlansky Field. And forget the fact that Poland was 5-1 and starts 10 seniors.
Those facts meant little as the Falcons scored two second-half goals on the way to a 3-1 victory over the Bulldogs.
"We are a very young team. We only had three starters returning and it's a learning process right now," first-year Fitch coach Tex Martin said. "We're still working people at different positions but it seems we've discovered we're a better second-half team.
"We're pleased with how our younger kids are really stepping up and playing. Our defense is very sound, we're tough to score on, and we've been able to score goals in the second half."
After Erin Gabriel scored her sixth goal of the season for Poland, a strike from about 30 yards out with 38:02 on the clock, the Bulldogs had a lead less than two minutes into the game.
It appeared the experience factor would loom large, but the Falcons' Meghan Shonce scored off a through ball from Lauren Paolucci at the 32:28 mark to knot the game.
"We came out fired up, we get the first goal, and then our defense kind of fell asleep," Poland coach John Cavalier said. "They [Poland defenders] felt the girl was offside, they stopped running and Fitch scored a goal. Every sport you play you play until the whistle.
"It was early, but it changed the whole momentum of the game. It let Fitch think they could stay with us. We were controlling it, we were down here the first half, we had opportunities, we just couldn't finish."
That goal did seem to give the Falcons confidence, though keeper Jessica Scott helped by stoning both Abby Brenoel and Quynn Latsko on breakaway opportunities within the last 15 minutes of the first half.
Poland also had another great opportunity off a corner kick with about 25 minutes left in the half when headers by both Gabriel and Maura Bobby hit the crossbar.
"Momentum is a big thing," Martin said. "A second goal for them would have been momentum, that's why we couldn't let them have a second goal."
Sophomore Jayme Ritchie broke the tie at the 35:12 mark of the second half off a through ball from fellow sophomore Lauren Bower. Bower then fed senior Emily Durina on a similar play for a game-clinching goal at 14:06.
"I call it bang, bang, bang," Martin said about Fitch's quick-passing offensive attack.
The Falcons consistently were able to free their forwards with passes down the channels. Poland keeper Abbie Frank had to come out for big second-half saves against Bower and Durina or the Falcons' margin of victory might have been even greater.
"We're in a little bit of a down period, I don't know why," Cavalier said. "There are no excuses, our team was not aggressive tonight and that's what beat us.
"We've got a lot of work to do. We are a veteran team, we start 10 seniors. But it's a long season and we've got to get some work done."