Residents work to ensure 9/11 remembrance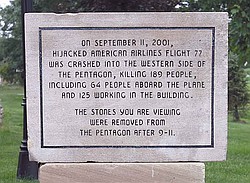 Photo
This plaque at the memorial sits atop stones from the Pentagon, which terrorists also attacked Sept. 11, 2001. A service is planned Sunday at the site.
By Elise Franco
Austintown
After the terrorist attacks Sept. 11, 2001, Pat Connolly was changed.
Connolly, an Austintown resident, said he's been alive for three of the most momentous tragedies in American history — the bombing of Pearl Harbor, the assassination of President John F. Kennedy and Sept. 11, 2001.
He said he wanted to do something to make sure no one ever forgets the significance of that most-recent day, so he created the 9/11 Memorial Park on South Raccoon Road in Austintown.
"As Americans, we can't afford to forget," he said. "It changed our lives — mine, yours, everybody's. ... We lost some of our freedom."
Connolly said in the 10 years since the attacks he's worked to make the memorial park, which includes pieces of metal from the World Trade Center that crumbled, a piece of history as well.
"We have all the artifacts here, the steel, the dirt and the stone," he said. "You almost have to have it all. If nothing else, it's a reminder."
To honor those who died, as well as those affected, the Austintown Beautification Committee is having a 9/11 Memorial Service beginning at 9 a.m. Sunday at the memorial site.
"We'll be ringing the bell at the moments that each of the four planes crashed, beginning at [8:46 a.m.]," he said.
Connolly said though the committee has had 9/11 services in the past, this likely will be the largest and most significant. He said every police and fire department in Mahoning County is invited.
Immediately after the memorial service, which should last about an hour, Four Mile Run Christian Church will have a prayer service across the street inside Austintown Middle School.
Mike Smith, senior minister, said the theme for the service is "Never Forget and Hope."
"The idea is part of what happens in our lives is that we forget the significant events and the hope that comes out of them," he said. "We want to give people back that hope."
Mr. Smith said this is the first year the church chose to participate in 9/11 events, but wanted to do something because of the 10-year milestone.
"Part of the reason we're doing it is the significance of the anniversary," he said. "But also, those people who serve us in our community ... would do the same for us as those who were in the buildings that came down."