School supplies make a cool surprise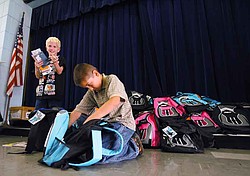 Photo
Watson Elementary third-graders Logan Swain, left, and Gage Nush check out what's inside their new bookbags. The bookbags were donated by United Way and will be given to more than 50 students at the school.
By Christine Keeling
Austintown
Students were surprised with school supplies.
More than 50 Watson Elementary students will receive book bags filled with supplies throughout the week. The bags were donated by Huntington Bank and filled with supplies gathered during the United Way's Stuff the Bus campaign.
Third-graders Logan Swain and Gage Nush looked concerned as they walked to the school's all-purpose room Tuesday after Principal Sheila Palumbo called for them over the loudspeaker.
When Palumbo showed the boys a large pile of book bags on the stage and told them they could pick any one they wanted, their faces lit up with smiles.
"Awesome," said Logan, before he began to debate which color he wanted.
Pencils, notebooks, pens, a ruler, a memo pad and a coupon for a haircut littered the floor, as the students opened their bags and rifled through them.
"It's just what I needed," said Logan.
"I love it," said Gage.
The supplies will come in handy for the students.
"It's a great opportunity for children to receive bookbags and school supplies in addition to what they already have," Palumbo said. "It will help with their academic success."
The United Way began its Stuff the Bus program three years ago, and in the last two years, partnered with Huntington Bank.
This year, the bank donated 450 bookbags and United Way collected school supplies at various Great Clips salons.
"We want to make sure kids are prepared for kindergarten or school," said Tara Mady, director of communications and marketing at United Way.
The students had a lot of ideas about what they were going to do with the supplies, including keeping a journal and making paper airplanes.
"I'm going to pretend I'm a mailman," Logan said. "And go to neighbors' houses and deliver mail."
He said he'd use some of the paper to make envelopes, so he could put notes in them and pass them out.
Gage seemed relieved and happy as he slung the backpack over his shoulder.
"Everyone's thinking we're in trouble," he said before heading back to class.
Palumbo said she plans to select a few students each day, for a couple of days, and surprise them with the bags.