Deaf woman dances to title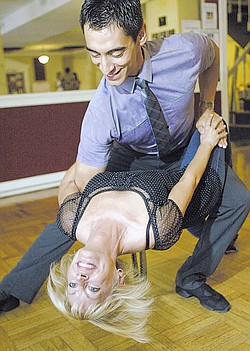 Photo
Hodak takes a dip with Manero at the Boardman dance studio. Hodak has overcome challenges associated with being a deaf dancer and has gone on to win competitions. The tango and Viennese waltz are her favorite styles of dance.
Deaf Dancer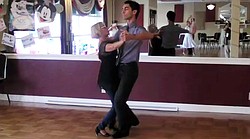 Video
Judy Hodak is an accomplished ballroom dancer. She is also deaf.
By Christine Keeling
Boardman
A silent solo earned a Mahoning Valley dancer and her partner top spots at a competition.
Judy Hodak of Lordstown and her dance instructor, Travis Manero, won Top Solo at the Buckeye Ball on Aug. 14 in Independence, Ohio, after performing a rumba-style dance to no music. The performance, the Sound of Silence, was chosen to give spectators a sense of how Hodak lives.
The 58-year-old dancer has been deaf since birth.
"We weren't sure how it was going to be perceived," said Manero, co-owner of Fred Astaire Dance Studio in Boardman. "But it was a jaw dropper for a lot of people."
As a little girl, Hodak danced the polka with her parents at weddings and parties. Her mother called her Cha Cha. Then nine years ago, she began taking lessons with her husband, Michael. She competed in two other dance competitions, but this was the first time she chose not to use music.
Manero said Hodak told him "that it would be weird" when he suggested they dance to silence.
"I wanted people to see what it's like to dance to no music, like Judy does all the time," said Manero.
When they finished their routine, the entire audience silently applauded in sign language, by shaking their hands in the air, he said.
"Speechless!" commented one judge, Galina Detkina, on the duo's scorecard. "For the first time, I saw music instead of hearing it," the judge wrote.
The couple scored a 96 average from three judges and won the trophy.
"I was scared the whole time," said Hodak.
The tango and Viennese waltz are her favorite styles of dance. And although her ears do not hear words, she said her whole body feels the vibration of the music.
"We are able to communicate even with her disability," said Manero. "Because she follows my body."
Hodak nodded in agreement when Manero said that she always says, "Travis is my music."
"Some people say, 'I could never do that,'" said Manero. "She shows that not only can you do it, you can excel at it."
Hodak is adamant in wanting people with disabilities to believe in themselves.
"Fight yourself and say you can do it," she said.
The dancers will set little goals for themselves and continue to practice.
Hodak said dancing is a way for her to feel healthy and she likes it better than working out.