Ox roast/car show offers a return to community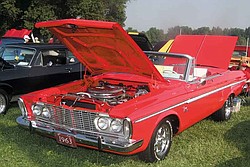 Photo
OX ROAST - A 1963 Plymouth Fury Convertible at the ox roast and car show Saturday morning. - Special to The Vindicator/Nick Mays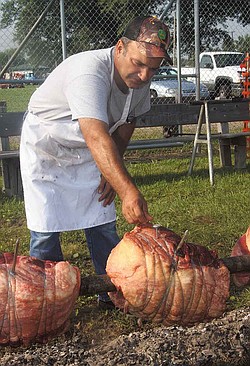 Photo
John Byler of Mesopotamia tends to beef for Glenn Christian Church's 16th annual Ox Roast and Car, Truck and Motorcycle Show. The community event attracts between 2,000 and 3,000 vehicles each year. Parking, admission, food and rides for kids are free, and there are many vendors. Attendees can donate toward the cost of the show. It continues today from 9 a.m. to 10 p.m. at the Trumbull County Fairgrounds, 899 Everett-Hull Road in Bazetta Township.
By Jeanne Starmack
Bazetta
They're regulars at the Glenn Christian Church's Ox Roast and Car, Truck and Motorcycle Show.
You know — getting there at 7:30 in the morning to stake out the best spot.
Right in the front near the entrance, so they can see everyone who comes and goes. They've got their tent set up for shade and their canvas folding chairs in a circle.
Nearby, their hoods are popped open.
Larry Netotea of Cortland has a baby-blue Pontiac Catalina. "It can be bought," he assured, for $19,000.
"These cars are always for sale," explained Chuck Pettit of Kinsman, who has "a couple of pickup trucks" in the show.
"If somebody wants it more than you, it's theirs," added Chuck Fleischman of Cort-land, who has a 1966 Mustang on display.
They sat with Greg and Karen Golias of Bazetta on Saturday afternoon, who are showing a 1964 Chevrolet Chevelle and a 1972 Suzuki bike, and with Scott Elkin of Cortland, who has a 1964 Chevelle SS convertible.
They've been coming to the show for most all of its 16 years, from the time it started with 17 cars on the church grounds until it got way too big and moved to the fairgrounds 10 years ago.
They know all about the nonprofit show and picnic that attracts 30,000 people over three days each year, with today expected to draw the biggest crowd.
There are plenty of vendors at the show selling everything from crafts to model cars to metal signs to pizza, funnel cakes and corn dogs, but if you are patient enough to stand in line, they said, you can score free food.
That includes roast beef sandwiches, hot dogs, corn on the cob, pop, and ice cream while it lasts. The church expects to roast 1,300 pounds of beef.
Parking, admission and rides for the kids are also free. The church does ask for donations for food, and it sells T-shirts ranging from $16 to $22 to raise money for the event.
All the money raised goes back into the show, said Delbert Woloski of Newton Falls, an event organizer who was over near the grandstand getting ready to had out trophies after Saturday's judging of cars, trucks and bikes.
"The main thing is, we give it all back to the community," added Ken Hansel of Cortland, the show's coordinator.
For that group of friends near the entrance, the free community event is a chance to get out and do what they enjoy.
"We sit around ... and talk about cars and the old days," Netotea said.
The show continues from 9 a.m. to 10 p.m. today.