Cardinal Mooney vs. Boardman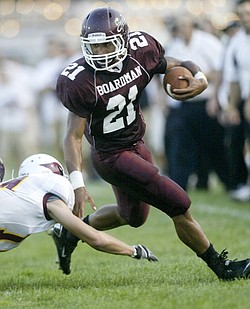 Gallery
Cardinal Mooney at Boardman Sept. 2, 2011.
Team

| Record | Div. | Conf. |
| --- | --- | --- |
| 7/5 | Div. IV | Independents |
Team

| Record | Div. | Conf. |
| --- | --- | --- |
| 6/5 | Div. II | All-American Conference Gold Tier |
Boardman Band's 'Lion King'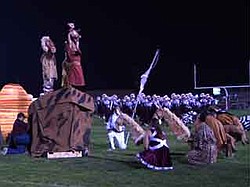 Video
By Tom Williams
BOARDMAN
For the second straight week, the Cardinal Mooney High football team trailed a tough Federal League opponent in the second half on the road.
Once again, the Cardinals rallied for a victory, this time scoring two fourth-quarter touchdowns then hanging on for a 27-20 win over Boardman on Friday on a steamy night before a packed Boardman Stadium.
With wins over Canton McKinley and the Spartans, perhaps the Cardinals should consider joining the prestigious Federal?
"Maybe," Cardinals linebacker A.J. Thomas said.
"No, we like being independent," quarterback P.J. Quinn said. "We like playing different teams and we have the hardest schedule."
In the final seconds with the Spartans driving to force overtime, Thomas delivered a game-preserving hit. With no timeouts remaining, Boardman faced third-and-3 from the Mooney 10. Spartans quarterback Ryan Pollifrone dropped back and was sacked by Thomas for a 4-yard loss.
"We were looking pass," Thomas said. "We wanted to get a rush [so] we were coming inside. Carmen Lanzo came in and forced him out and I brought him down. It was the best feeling in the world."
Pollifrone's fourth-down pass fell incomplete.
"It's frustrating for our kids, our school and our community," Boardman's first-year head coach Mark D'Eramo said. "[Give] a lot of credit to Mooney.
"They don't do a lot of things, but they do them well," D'Eramo said. "Their offensive line is physical and they move you off the ball. And they have a slew of running backs."
Boardman's Devin Campbell rushed for a game-high 169 yards on 19 carries and scored three touchdowns.
Mooney was led by Roosevelt Griffin who had 98 yards on 20 carries and two scores. Quinn scored the game-tying touchdown in the fourth quarter on a 1-yard run while Marcus McWilson stunned the Spartans with an 85-yard kickoff return just as the first half ended.
"That was probably the play of the game," Quinn said. "That just shifted the whole momentum back our way. That was probably the play of the game.
The Spartans (0-2) dominated the first half, out-rushing the Cardinals 176-85 but were tied 13-13 after McWilson's return.
In the second quarter, the Spartans' Leslie McIntosh punched life into his teammates when he jarred Cardinals receiver Michael Bruno near midfield and Zach Machuga recovered the fumble, setting up Campbell's 12-yard touchdown that put Boardman ahead 7-6.