Mahone leads Fitch past pesky Poland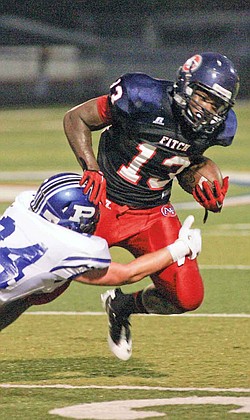 Photo
Poland's Conner Schultheis (24) stops Fitch's Will Mahone (13) in Friday's game at Fitch's Falcon Stadium in Austintown. The Falcons scored on the next play and went on to defeat the Bulldogs, 21-3.
Team

| Record | Div. | Conf. |
| --- | --- | --- |
| 6/4 | Div. I | All-American Conference Gold Tier |
Team

| Record | Div. | Conf. |
| --- | --- | --- |
| 8/3 | Div. III | All-American Conference Red Tier |
Poland vs. Hubbard

Video
By John Bassetti
AUSTINTOWN
On a night when people were trying to beat the heat, Will Mahone brought the heat.
After Poland kept it close for three quarters, Fitch (2-0) had a three-play 80-yard drive at the outset of the fourth quarter that gave the momentum to the Falcons, who finished off the Bulldogs, 21-3.
Mahone rushed 17 times for 147 yards, including a 52-yard breakaway run that set up Fitch's second touchdown to give the Falcons some breathing room.
"You're a better coach when you've got great players," Fitch coach Phil Annarella said of the 6-foot, 206-pound senior who finished with two touchdowns, caught one pass for 12 yards and had a 58-yard kickoff return.
"He did it pretty much on his own," Annarella said of Mahone's long run just moments after Poland missed a 35-yard field goal on the second play of the fourth quarter.
Many of Mahone's runs were punctuated by tackle-bursting moves, including his 20-yard TD less than a minute after Poland's failed field goal when the Bulldogs were still within 7-3.
Fitch had plenty of breaks in the first three quarters, but they couldn't capitalize, whether due to a self-inflicted penalty or Poland's stiff defense.
"It wasn't pretty, but we did what we had to do to win," Annarella said.
While Demetrious Davis was Fitch's primary quarterback, Matt Futkos started the game and played the first series.
"We can do that anytime," Annarella said of 5-11, 168 junior. "That was to give him a little taste of it right at the outset of the game to see how he handled it and he handled it well. He's ready to step in at any time."
Colin Reardon picked off a Futkos pass in the end zone to snuff a drive on Fitch's first possession, but Poland was still unable to put any distance between its end zone and the Falcons' defense until Connor McFadden's 40-yard field goal put Poland on the Bulldogs on the board first, 3-0, with 6:50 remaining in the second quarter.
"I was very pleased that our kids, physically, took it to them," Poland coach Matt Brungard said. "Our execution, for the most part, was pretty good, but we didn't finish drives. We had 80 yards in penalties — a couple holding calls in the second half really hurt us from punching drives in. Against a good team, you can't be close, you've got to have it all together."
With 2:26 left in the second quarter, Demetrious Davis' 2-yard run and Ken Kilpatick's kick put Fitch ahead for good, 7-3.
Fitch's 14 fourth-quarter points were the product of Mahone TD runs of 20 and 9 yards and a pair of Kilpatrick PATs.
Mike Stiffler's fumble recovery set up Mahone's second TD when the 6-1, 214 senior fell on a bad center's snap that squirted around until Stiffler jumped on it at 31 yards from Poland's end zone.
Annarella offered this assessment of his Falcons after two games: "We're far from where I'd like to be."