Howland vs. Lakeview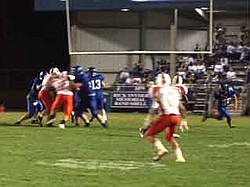 Video
Howland vs. Lakeview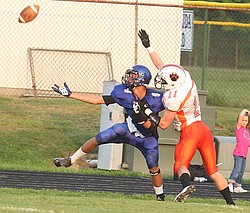 Gallery
Team

| Record | Div. | Conf. |
| --- | --- | --- |
| 6/4 | Div. III | All-American Conference Red Tier |
Team

| Record | Div. | Conf. |
| --- | --- | --- |
| 9/2 | Div. IV | All-American Conference White Tier |
By Tom Williams
CORTLAND
On the eve of his grandfather's funeral, Howland senior linebacker Robby Klose thought about sitting out.
"I'm named after him," said Klose of Robert Klose who died of cancer earlier in the week. "He was like my best friend; I could tell him anything."
Asked if he thought about not playing, Klose admitted he did.
"But my Grandpa would have wanted me to play," Klose said. "He was here tonight; he was watching me and I played for him."
Howland coach Richard Angle said Klose's solid play inspired the Tigers to Thursday's 40-7 victory over Lakeview.
Behind a strong line, running back De'Veon Smith rushed for 203 yards on 17 carries.
"Klose played great," Angle said. "De'Veon running the ball is always fun to watch and I thought our offense line really controlled the line of scrimmage.
"They [the offensive line] along with the linebacker corps were our players of the game," Angle said.
Blocking for Smith were Anthony Stanko, Mike Kalkbrenner, Cory Clement Alec Ciferno and newcomer Jayson Freeman at center. Freeman was filling in for Dan Moody who injured his hand in last week's win over Lakeside.
"We had a new center starting for the first time and he did a pretty good job," said Angle.
Moody was able to play defensively while Freeman played on both sides of the ball.
"It feels good to get what you earned," Smith said. "We worked real hard in practice."
Howland (2-0) scored on its first possession after Smith broke free for a 50-yard gain to set up Tyler Drass' 4-yard touchdown run.
"That was very inspiring," said Smith, who said he was inspired by highlights of his brother Lance Smith.
"I had a picture of his [runs] in my eyes," Smith said of his longest run. Lance Smith played for the Tigers through the 2005 season.
The Bulldogs stopped Smith at the 11 and Drass scored three plays later.
The Tigers seized control with three touchdowns in the second quarter, including quarterback Brendan Cope's 15-yard touchdown pass to wide receiver Kenny Pozega in the corner of the end zone.
"The quarterback did a good job of making a read and throwing a fade into the corner," Angle said. "That was big for our offense."
Lakeview's starting quarterback Anthony Franco did not play after breaking a bone in his left hand in last week's loss to Madison.
"That certainly hurt Lakeview — we prepared to play against [Franco]," Angle said.
Junior Erich Schmitt took over behind center.
"Erich did some real good things," Lakeview coach Tom Pavlansky said. "He's got to get a little more help.
"They are a very good team," said Pavlansky of the Tigers. "We gave them one drive right off the bat. They wore us down and we missed some tackles. And when you miss tackles against a good team, they go a long way. We've got to get better."
After Drass scored on a 2-yard run, Smith scored from the 4 yard line. Tony Osborne's conversion run made it 21-0 midway through the second quarter.
"It was just a team effort — it all goes out to them," Smith said.
With a date at Warren Harding looming next Friday, Angle was happy to see progress.
"I think we got better. We tackled better and crisper than last week," Angle said. "We weren't leaving our feet and we put a lot of pressure on the quarterback.
"Our defense played very well but we can't drop interceptions the way we did today."
Howland's biggest problem was penalties. The Tigers were flagged nine times for 92 yards. Two of them came on long runs by Smith.
"They were behind the ballcarrier," Angle said. "De'Veon broke against the grain on two of them — that could be inexperience. You're trying to get up in front of them and so you get a block in the back. It's uncharacteristic of us to do that but when you cut way back against the grain, those things happen."
Klose said the Tigers work hard at not looking ahead.
"We just take game by game, that's the main thing. If you look too far ahead, that's were you mess up and lose," Klose said. "I think we played really well, but we can't look [let up]."