By DAVID SKOLNICK
skolnick@vindy.com
POLAND
Kenneth Nielsen says he has thick skin.
State Issue Two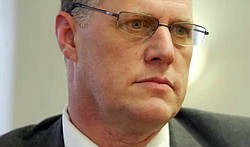 Video
Kenneth Nielsen of Struthers shares his opinions on State Issue 2.
A Firefighter Speaks Out On Issue 2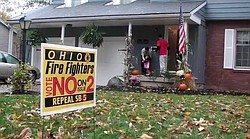 Video
A Firefighter Speaks Out On Issue 2.
The Struthers man needs it working as a locksmith at Ohio State Penitentiary in Youngstown.
He also needs it as a member of the Ohio Civil Service Employees Association union. He's a vocal supporter of state Issue 2, which restricts some collective-bargaining rights for public employees, including himself and his co-workers.
Nielsen, who makes $46,441 annually, isn't making friends and influencing others at the workplace by supporting the issue.
"I'm not one to sugarcoat anything," he said during an interview with The Vindicator at the Poland public library. "If I just hid in a hole in the ground, I'd be better off, but that's not me. I've been hassled at work. I'm sure other people who believe this is a good law don't say anything because they don't want to get hassled, too."
Nielsen's wife, Karen, is a teacher at Gospel Baptist School in Poland and also supports Issue 2.
She works full-time making $12,000 a year at the nonunion school that doesn't offer health insurance or other benefits to its employees, Nielsen said.
"Smaller private schools aren't in a position to offer health insurance," he said.
When asked if that seems fair, Nielsen said, "I haven't thought a whole lot about it."
The couple have six children — two are adults living on their own, three in college and one in high school.
Why does Nielsen support Issue 2?
"It's a patriotic thing," he said. "Citizens don't have control over how money is spent. Taxpayers don't have any recourse. This bill gives more control at the local level."
In the current economy, the money is not there to pay for all the perks given to public employees, Nielsen said.
"We're being overtaxed," he said. "If the economy moves in a way that people paying the bills don't have the money, you need to make some cuts. If you buy something you can't afford, eventually you find yourself in trouble."
If approved on Nov. 8, public employees would be required to contribute at least 15 percent of the cost of health-care premiums and 10 percent of their salaries toward pensions.
Like other public employees working for the state, Nielsen already does both.
The issue also caps
vacation, sick and other paid leave and limits what employees could cash in from those benefits when leaving state employment.
Nielsen said the bill "in some ways may affect me a little bit."
But reform is important enough, he said, that whatever money he loses is worth it.
Though he works for the state government, Nielsen said, "I've been in a tea-party frame of mind long before there was a tea party."
As for the biggest misconception about Issue 2, Nielsen said it is that "public workers won't be able to bargain at all.
"This doesn't get rid of the collective-bargaining law," he said. "It makes adjustments. It rewrites some of the points in the law. Unions can still bargain on wages and work conditions. If I see something that's unsafe, I can still bring it to the forefront."
But if the bill passes, elected officials would have the final say on many collective-bargaining issues if negotiations hit an impasse.
The bill would help control spending on the local level more than the state level, he said.
He said there are union members on the local level who pay nothing or very
little toward their health-care premiums and pensions.
"We can't keep going the direction we're going," Nielsen said. "We'll go broke. You have to be fiscally responsible."
Nielsen said he also favors the bill because financial caps would be in place for those retiring from public work. He said he agrees with those in the private sector who complain about public-employee pensions.
"If you put in 20, 30 years as a state worker, you've got a nice retirement waiting for you," said Nielsen, who's been a public employee in Ohio for the past 12 years, and previously spent four years in the public sector in Indiana.
"Some are doing quite well for themselves. You can't blame them. No one wants to voluntarily take a cut in wages, but sometimes the situation necessitates changes and reductions."
---
BOARDMAN
Matt Davies said he didn't join
the Youngstown Fire Department three years ago to make an easy buck.
Davies started in 2008 with a $24,000 annual base-pay salary.
It's not much more today. He's making $28,000 annually, and it increases to $31,500 next year.
"I took this job knowing I wouldn't be a rich man," he said. "It's something I love. I'm lucky to have this job. I'm so honored."
But Davies says he's bothered by what would happen if state Issue 2 is approved by voters Nov. 8.
The issue, if passed, would affirm Senate Bill 5, which was approved earlier this year by the Republican-controlled state Legislature.
SB 5 restricts some collective-bargaining rights for public employees in Ohio.
Sitting in his Boardman home with his wife, Marissa, also a public employee — a school psychologist for the Youngstown school district who makes $44,680 annually — and their 15-month-old daughter, Emma, Davies said he's more concerned about safety than money when it comes to Issue 2.
If the issue passes, Davies said he would see his health-care premium contribution increase from 10 percent to 15 percent, and he'd lose perks such as $724 a year in hazardous-duty pay and $300 annually for having a bachelor's degree.
Davies made $1,110 in overtime last year and receives $960 annually for uniforms. Neither of those payments is addressed in state Issue 2. The issue also allows public union members to bargain for wages.
Davies and his wife both currently pay 10 percent of their salaries to their pension plans — a requirement under Issue 2.
"Everyone wants to make more money, but I started at $24,000, and I've never complained," he said.
The bigger concerns to Davies are issues such as staffing levels; equipment and training would be decided by elected officials.
The bill allows negotiations on safety equipment and training. But rather than having a third-party arbitrator make those decisions if the union and city reach an impasse, the bill permits elected officials to have the final say on those and other contract issues.
Minimum-staffing levels are not in the Youngstown fire-union contract.
"We haven't been awarded the staffing rights, but we currently have the ability to negotiate to get it even though it's been a management right," Davies said.
Building a Better Ohio, the main organization supporting Issue 2, says fewer than 12 percent of public- employee contracts in the state have provisions for minimum staffing levels.
Davies says collective bargaining works, pointing out that the last three-year firefighters contract and the three-year deal signed a few months ago have included pay freezes.
The contract signed in 2008 included a provision that requires firefighters to spend 10 years with the department before making the top annual base-salary pay of $54,000 rather than the six years in previous deals.
"It was a huge giveback, saving the city more than $2 million over three years," he said. "It's a tough time financially, and we understand that. The concessions we've made have been through collective bargaining."
Davies said he knows there's a perception that public workers are "greedy with bloated salaries."
"It's just not true," he said.
If Issue 2 passes, Davies said he and other firefighters will continue to work as hard as they always have worked.
"I'm going to get back on the truck and continue to do my job," he said. "All we want is the ability to take care of people and take care of ourselves."
Without training and the proper equipment, there could be major problems fighting fires, he said.
"Issue 2 is a life-or-death situation," Davies said. "It's about our safety. Passage of the issue is a scary thought. Without the protections [in union contracts], bureaucrats will be making decisions on how to save people."
His wife, who has a master's degree from Kent State University, is in her first year as a school psychologist in Youngstown after working three years at the Mahoning County Educational Service Center. She earns $44,680 in annual salary, according to information provided by the school district.
"It impacts educators; it impacts public employees in general," Marissa said of Issue 2. "Public employees have done what they can to save money. Public employees have been taking wage freezes and cuts. Through collective bargaining, we've been able to save [public-sector entities] money."
Davies is among five psychologists in the district.
"I'm just trying to do my job," she said. "Issue 2 would bring about changes but not in a good way."
Her health-insurance premium cost is 1.225 percent of her annual salary. That's about $550 a year.
Issue 2 would increase her health-care premium contribution to 15 percent of the district's annual cost for coverage. That would be about four times the amount she currently pays.
Her union ratified a three-year contract, effective July 1, 2010, before Davies started working at the Youngstown school district. That contract calls for 1-percent salary increases annually.