Poland's big plays too much for Canfield 21-7
By Tom Williams
Canfield vs. Poland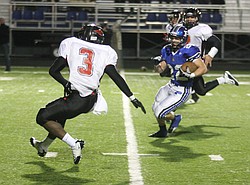 Gallery
Team

| Record | Div. | Conf. |
| --- | --- | --- |
| 12/1 | Div. III | All-American Conference Red Tier |
Team

| Record | Div. | Conf. |
| --- | --- | --- |
| 8/3 | Div. III | All-American Conference Red Tier |
POLAND
Playing for their playoff lives, Poland High's football players overpowered equally-desperate Canfield with three huge plays for Friday's 21-7 triumph.
Each of Jerry Lawman's three 1-yard touchdown runs followed long gains for the Bulldogs (7-3, 3-1 All-American Conference Red Tier) who are awaiting Sunday's playoff announcement for Division III, Region 11.
"This is something we'll remember for the rest of our lives," said Lawman after rushing 18 times for 110 yards. "We live for this, we practiced all year for this and so did they."
Poland was seventh in this week's computer ratings for Region 11 while Canfield was seventh in Div. II Region 5.
"We gave up three big plays and we couldn't get more than one drive," said Canfield coach Mike Pavlansky after the Cardinals (6-4, 1-3) most likely were eliminated.
Quarterback Colin Reardon, who is recovering from a shoulder separation on his throwing arm, engineered two of the Bulldogs' big plays.
On their opening possession, Reardon's hitch-and-go toss to Jimmy Morocco gained 45 yards to the Canfield 2 to set up the first touchdown.
In the third quarter on a flea-flicker play, Reardon threw deep to Morocco over the middle for a 43-yard gain to the Canfield 1.
After practicing the play for seven weeks, Bulldogs coach Mark Brungard said his players pressured him to call it.
"We knew they would be aggressive on our wide receivers because we don't have speed-burners," Brungard said. "They were in tight coverage and we took advantage with a couple of deep passes."
Reardon was thrilled with the trick play call.
"It came up an inch short," Reardon said of the flea-flicker reception. "I have so much confidence in our receivers especially Jimmy. It was a perfect toss [from Lawman], the laces went right to my fingers. We knew it could work."
Reardon completed 7 of 8 passes for 108 yards.
After being limited to two yards on five runs in the opening quarter and trailing 7-0, the Cards came to life, driving into Poland territory.
Bulldogs defender Conner Schultheis stopped the threat when he slammed Cards running back Bryce Jackson who was trying to contol an option pitch from quarterback Jordan Italiano. Lawman's pressure on Italiano rushed the pitch and Schultheis recovered the fumble after his hit.
On the next play, Lawman burst free for a 54-yard run to the Canfield 1 to set up Poland's 14-0 lead.
"The whole line blocked it perfectly, opening up a huge hole," Lawman said.
The Cards responded with some gutsy play by Italiano, who has been dealing with concussion and turf toe issues.
Canfield's 18-play, 80-yard drive to close the half was capped by Italiano's 6-yard touchdown pass to tight end Jimmy Rousher.
"We didn't know until game-time," said Pavlansky of whether Italiano would be able to play. "He's a tough kid, I thought he played well."
So did the Bulldogs.
"They had some guys banged up but they gave us a great game," Brungard said. "Hats off to Coach Pav's team and how hard they played."
Italiano completed 10 of 19 passes for 81 yards. He also had 10 carries for 23 yards.
The Bulldogs limited the Cards to 47 yards rushing on 27 carries.