Boardman gets playoff berth, beats Fitch 14-0
Austintown vs. Boardman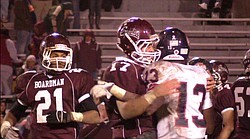 Video
Team

| Record | Div. | Conf. |
| --- | --- | --- |
| 6/5 | Div. II | All-American Conference Gold Tier |
Team

| Record | Div. | Conf. |
| --- | --- | --- |
| 6/4 | Div. I | All-American Conference Gold Tier |
By Joe Scalzo
Boardman
A few minutes after polishing off a 14-0 victory over Fitch on Friday night, Boardman senior linebacker Dan Popio stood in front of his team, yelling, "Remember when we gave up 31 points in Week 1? We shut them down!"
Senior receiver Dayne Hammond held up the rivalry trophy and yelled, "Remember when everyone was doubting us when we were 0-2?"
And Spartans coach Mark D'Eramo stood in front of one of the most implausible playoff teams in Ohio this season and said, "We're going to nail that spike down!"
Boardman's motto at the beginning of the season was "Nail it down," which was a good philosophy for a team that could have easily become unhinged when its first-year head coach had to deal with almost losing one of his best players to Warren Harding and opening losses to Cleveland Benedictine and Mooney.
But Hammond stayed, his team stayed together and the Spartans used a six-game winning streak to win a share of their first Federal League title.
"It's really satisfying after all the things we had to go through," said senior Devin Campbell. "The situation with Dayne, the situation with Coach O [former head coach D.J. Ogilivie] ...
"But we've got a great coach. I love Coach D'Eramo. He deserves this."
Facing their rivals with a playoff berth on the line, the Spartans (7-3) dominated Fitch (6-4) up front on both sides of the ball, rolling up a 248-8 advantage in rushing yards.
"I can start off very simply for you and make this short and sweet — we got our butts kicked, in every way, shape and form," said Falcons coach Phil Annarella. "I give a tremendous amount of credit to Coach D'Eramo and [defensive coordinator Mike] Popio. They shut us down."
Ivan Adu Poka scored a 14-yard TD on his only carry and Hammond caught a 15-yard TD pass from Ryan Pollifrone, helping erase memories of last year's 25-7 loss to the Falcons in which he threw seven interceptions.
Campbell rushed 17 times for a game-high 136 yards but made his biggest play on defense, chasing down Fitch RB (and Notre Dame recruit) Will Mahone at the 5 in the final minute of the first half when it looked like Mahone was going to turn a simple outside screen into a 61-yard TD.
"The thing that went through my head was, 'Don't let him score, just don't let him,'" Campbell said. "I don't know how fast I was running but it felt like I was moving."
Three plays garnered 4 yards and on fourth down, Popio sacked Fitch quarterback Matt Futkos to end the threat.
The Falcons threatened again in the beginning of the third quarter when Billy Price returned an interception to the Boardman 13, but Fitch gained just one yard in the next four plays and never came close to scoring again.
"The one thing I've got to say is, God is good and the Lord has blessed this team," said D'Eramo, who nails a spike in a tree trunk in the locker room after every win. "From Day 1, the kids showed a lot of character and a lot of class."
The Falcons, meanwhile, never lived up to their preseason billing thanks to a several crucial injuries, none worse than the season-ender to QB Demetrious Davis early in the year.
"Those are the things that happen," said Annarella. "High school football is tough. It's tougher because when have some key injuries, we don't have guys we drafted or recruited to fill in.
"We were playing some kids this year we shouldn't have been playing, but God love them, they played their hearts out."