Jason Kokrak begins Nationwide Tour Championship today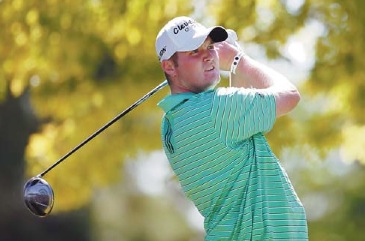 ---
By Rob Todor
CHARLESTON, S.C.
Jason Kokrak has always been a long shot. Now, in part because of it, he's going to be a big shot, too.
Kokrak, who early this month cemented his PGA Tour card for the 2012 season, will take part in the season-ending Nationwide Tour Championship, which begins today at the Daniel Island Club here.
The tournament is limited to the top 60 money leaders on the Nationwide Tour. Kokrak enters the week ranked No. 4 on the money list. The top 25 on the list automatically earn a PGA Tour card for the following season.
And while Kokrak, 26, is already looking ahead to 2012, he's also of the mindset to finish 2011 on a winning note.
"Oh, definitely, I'm going out there to win," said Kokrak, the Warren JFK graduate. "It's the biggest purse of the year [$1 million, with $180,000 going to the champion] and it's the most prestigious field of the year.
"I can go out and have fun," he added. "There's no pressure on me, because I've already got my [PGA Tour] card."
Kokrak, the first Valley native in 30 years to hold a PGA Tour card, has only played a few practice holes at Daniel Island, but its length — 7,446 yards — plays right into his strength.
Kokrak leads the Nationwide Tour in driving distance (320 yards on average). Combine that with his accuracy —he's 74th in driving accuracy and ninth in greens in regulation — and it's not difficult to see why he's won twice in just 15 events on the Nationwide Tour this season.
"My length is a great advantage," Kokrak said, "because I'm usually a short iron from the green, where a lot of the other players need driver [and] 3-wood or a longer iron to get there."
Kokrak admitted he's been ininudated with offers from agents and product representatives. He's also been beseiged with interviews since first winning the Boise Open on Sept. 18.
He's missed the cut in two events, including the Jacksonville Open last week. That came after he ran away with the Missosukee Open in Miami with a 20 under par 264.
"I've just been mentally exhausted," he said. "Every cut I've missed this year, I've missed by one shot.
"People only see the stuff on the course on TV on the weekends," Kokrak added. "The glory stuff. They don't see the Monday through Wednesday grinding, doing interviews and meeting with reps. They didn't see that I only got an hour's sleep the night before and the traveling."
Still, Kokrak wouldn't want to be in any other position. This week is "gravy," as he puts it. The worst-case scenario is that he doesn't play well and pockets a few thousand dollars.
"What a deal," he said. "I'm playing golf with my buddies and having fun with it."