Ursuline beats rival Cardinal Mooney 25-21
By Jon Moffett
Team

| Record | Div. | Conf. |
| --- | --- | --- |
| 2/8 | Div. IV | Independents |
Ursuline vs. Cardinal Mooney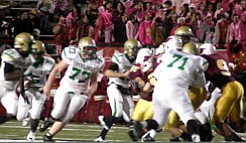 Video
Ursuline vs. Mooney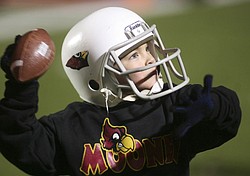 Gallery
YOUNGSTOWN
Jesse Curry didn't care about his four touchdowns. He didn't care about his 200-plus yards rushing. He didn't care that he dropped thousands of jaws by bouncing off of tacklers like a pinball.
All he cared about was getting to the quarterback.
The Ursuline senior linebacker-tailback had already set the stage in his performance. Now it was time for the final act.
On third down in the waning seconds of the fourth quarter, Curry rushed Cardinal Mooney quarterback P.J. Quinn and wrestled him to the turf of Beede Field at Stambaugh Stadium.
One play later, Ursuline forced a turnover on downs to defeat their arch-rivals 25-21.
The parochial powerhouses didn't disappoint the thousands in attendance. The schools exchanged a pair of touchdowns each in the fourth quarter, but it was the Ursuline defense that sealed the win and kept their playoff hopes alive.
Curry was more pumped to talk about the defense instead of his impressive night carrying the ball.
"I knew we needed a big play, and [the coaches] sent me on a blitz," Curry said. "I knew I had to make a play, so when I saw the opportunity to take it, I took it."
Curry took a lot of things, including the collective breath of the crowd.
His 26 carries produced 208 rushing yards and all but one of the points for the Irish (3-6). And while his long runs, including touchdowns of 31 and 13 yards, were exciting, 2it was some of the other plays that had opposing coaches shaking their heads.
Curry used second-, third- and fourth-efforts to consistently gain extra yards. Several runs looked to be going nowhere, but resulted in first downs.
"All of our backs spend a lot of time in the weight room and in a game like this where you need to run the ball to win, that conditioning pays off," said Ursuline coach Dan Reardon. "Jesse certainly had his share of broken tackles tonight."
Smashmouth running was especially important given the windy conditions that made passing difficult.
The Cardinals (5-3) started slowly on offense and stared at a 12-0 halftime deficit.
"We didn't do a very good job offensively in the first half and [Ursuline] was playing some good defense," Fecko said.
Mooney scored 13 unanswered points on runs by running back Roosevelt Griffin and Quinn. Quinn added another score from the goal line after halfback Justus Ellis-Moore broke loose for a 67-yard run.
Curry scored his fourth touchdown with just under four minutes to go in the game, and the Cardinals had one last shot.
Mooney drove into Irish territory and faced a third-and-long with just a few seconds remaining.
That's when Curry unleashed and brought Quinn down, one of five sacks on the night for the Irish.
On fourth down, Quinn completed a short pass to receiver Quincy Jones, but the Cardinals were short.