Kitten found riddled with BBs, struggling to breathe
By Elise Franco
efranco@vindy.com
AUSTINTOWN
Kitten Shot 17 Times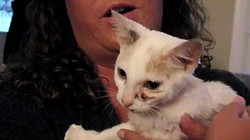 Video
Thanks to an Austintown couple a kitten that had been shot 17 times is on the road to recovery and a new home.
Plans for Emily and Eric Dvorovy's movie date quickly changed after making a pit stop at Target, where they found a BB-riddled kitten in the parking lot.
Emily Dvorovy, 28, said she and her husband, 30, both of Austintown, left the house Friday evening intending to see a movie but stopped at the Target in Boardman first. As they were pulling into a parking spot they spotted a white kitten scurrying under cars.
"When we got out of the car I could hear her crying, and it was so sad," she said. "We grabbed her as she was going between cars ... You could tell she was beat up a little bit."
Dvorovy said the white kitten, which is about eight weeks old, has several visible round wounds, some still open.
"Her fur was matted, and she had this one wound on her face that was just dripping blood," she said. "We had to take her home with us; we couldn't leave her."
Dvorovy said they weren't able to get the kitten to a veterinarian until Monday, so they cleaned her wounds with warm water and set her up in the garage, away from their other pets.
The couple took the kitten to Austintown Veterinary Clinic, where technician Elisha Rock said the BBs were discovered.
"When I was holding her I felt something under her armpit, so we took an X-ray," she said. "We found 16 BBs and a pellet inside her."
The BBs were spread out along the length of the kitten's body, with several on her back and belly area. Rock said one BB entered at the kitten's neck and floated down toward her throat, making breathing difficult.
"We've seen BBs on X-rays before, but nothing this severe," she said. "It's just cruel."
Linda Plant, the clinic's office manager, said other than the wounds, the kitten seemed to be in good health. She weighed about two-and-a-half-pounds, which Plant said is about average for a cat of her age.
"She's going to be OK," she said. "When it comes time to spay her, the doctor will remove most of the BBs that are superficial."
Dvorovy said she's disgusted that someone could intentially harm an aminal in this way.
"When they called me back and showed me the X-rays I burst into tears," she said.
Dvorovy said she and her husband are trying to decide whether they will keep the kitten, now named Lily. She said her aunt is interested, so it's likely Lily will stay in the family.
Until then, the kitten is making friends inside the house with the couple's other pets — two cats and a dog.
"I can't believe she's lived through this without any real health issues," Dvorovy said. "She's very resilient ... she sleeps a lot, but she's so loving."