Boardman clinches tie for Federal League title
Team

| Record | Div. | Conf. |
| --- | --- | --- |
| 6/5 | Div. II | All-American Conference Gold Tier |
Canton GlenOak vs. Boardman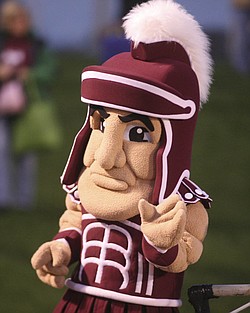 Gallery
By Matthew Peaslee
Boardman
After eight years of Federal League play, the Boardman Spartans finally captured their goal of a conference crown.
By defeating previously undefeated Canton GlenOak 17-14 at Spartan Stadium, they have clinched at least a share of the right to be named champions.
"I'm ready to go in the gym now and hang up that banner," said senior Devin Campbell. "It's the best night of my life,"
It almost turned into a nightmare.
With 1:36 remaining in the fourth quarter, the Spartans were clinging, not only to a 17-14 lead, but a short field to defend. The Golden Eagles picked up two first downs and were inside the Boardman 30.
Dayne Hammond wasn't worried.
GlenOak quarterback Reid Worstell had already thrown 29 times and Hammond had a feeling one more was coming.
"I tipped my jaw up and saw [Dashawn Hall] starting to run," he said. "The whole game the receivers were just running, so I took a lock on Hall because I knew he was going to throw it to him."
Actually, Worstell intended to throw it to Hall. Instead, it fell right into Hammond's outstretched arms for his second interception of the night.
"I just broke and made the play," Hammond exclaimed. "It was so exciting."
Boardman (6-2, 5-0) still faces a tough Canton McKinley team next week, but they're sure savoring the accomplishment.
"It was a great effort," Boardman coach Mark D'Eramo said. "They played so hard and I'm so proud of them."
D'Eramo had a plan to stop GlenOak running back Bri'Onte Dunn. The Spartans did, limiting the Ohio State commit to 83 yards on 22 carries.
"You got to shut the run down first," D'Eramo said. "If you can stop Dunn, you have a chance to make them one dimensional. We forced them to throw the ball, so we pinned our ears and got after it."
What D'Eramo didn't necessarily anticipate was special teams playing a big factor in the game.
Boardman tied it at seven after a 51 second drive ended in a 23-yard pitch and catch from Ryan Pollifrone to Campbell. Then, on the ensuing kickoff, the ball rolled away from the GlenOak return team. The Spartan's Eyad Traish slid in to recover the squib kick on the Golden Eagle 20. Three plays couldn't get it in the end zone, so kicker Ian Simmons was on the field again to convert a 27-yard field goal. Within 36 seconds, Boardman had the lead at half.
"It was gigantic," D'Eramo said. "Anytime special teams can help you win a game its huge."
With the defense and special teams doing their jobs, the Spartans did get great production from all three phases.
The offense tallied 268 total yards. Campbell ran for 90, while bringing in six catches for 47 yards. Fullback John Babos pummeled for 35 on the ground. But they may have found a new star in Nathan Jones.
On his first touch of the night, the junior broke free on a 39 yard scoring run. Jones finished with 58 yards on just two more carries.
"He's a sprinter on our track team and tonight he became a football player," D'Eramo said.
Dunn did get GlenOak (7-1, 3-1) on the board first with a five-yard TD run in the first quarter. After 47 seconds ticked off the fourth quarter clocked, Worstell hooked up with Hall for a 17 yard score, making it 17-14. It made for an awfully tense final period.
"We weren't nervous at all, though," Hammond said. "We capitalized because we knew know how to handle ourselves with our backs against the wall and we handled the pressure well."