Death sentence upheld in YSU student's slaying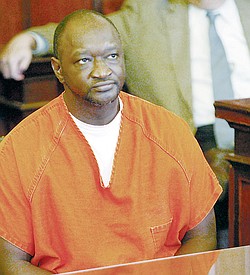 Photo
Bennie Adams sentenced to death for the 1985 murder of Gina Tenney.
YOUNGSTOWN
The 7th District Court of Appeals affirmed the conviction and death sentence of the man convicted of the 1985 murder of a Youngstown State University student.
Bennie Adams appealed to the court after having been found guilty and sentenced to death in Mahoning County Common Pleas Court in 2008 for the murder of Gina Tenney.
The appellate court heard oral arguments in the case in August and issued a ruling Friday.
Tenney, a 19-year-old YSU student who was Adams' upstairs neighbor in an Ohio Avenue duplex, was strangled Dec. 29, 1985. Her frozen body was found in the Mahoning River near West Avenue the next day.
Adams was indicted for the murder in 2007 after a DNA match was found in evidence that police had preserved for 22 years. Adams, 54, is on death row.
Undue delay in prosecution is one of the 21 allegations of legal and procedural error presented by Attys. John B. Juhasz and Lynn A. Maro, who are representing Adams. The court filing included 528 pages.
Juhasz said he had not seen the court's opinion as of Friday afternoon and would not comment on what Adams would do next. He did say the case could be appealed to the Ohio Supreme Court.
The attorneys, in arguing undue delay in prosecution, pointed out that Adams was not indicted for the murder until 22 years after the crime even though he was arrested for receiving the woman's stolen property. They also claim Adams' right to a speedy trial was denied.
The court rejected the claims, however, saying that Adams' due-process rights were not violated if the reasons for the delay are taken into account. The court's answer says the Ohio Bureau of Criminal Identification and Investigation did not get accreditation for the needed DNA test until 2000 and began accepting more requests for cold-case analyses in 2004 when grant money was available.
Other allegations of error pertain to jury selection and instructions, admissibility of trial testimony and evidence, trial location and the constitutionality of the death penalty.
The defense attorneys claimed Adams' trial should have been moved to a different location because of pretrial publicity, but the appeals court said changing venue, or electing not to do so, for the trial attorneys was a matter of strategy.
Adams' attorneys also claimed the death penalty to be cruel and unusual punishment. The appeals court, however, ruled that the claim is lacking in merit.
Members of the Tenney family did not wish to comment on the court's decision Friday.