Campbell knocks off Girard 42-35
Campbell vs. Girard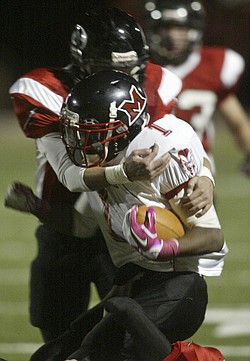 Gallery
Team

| Record | Div. | Conf. |
| --- | --- | --- |
| 3/7 | Div. V | All-American Conference Blue Tier |
Team

| Record | Div. | Conf. |
| --- | --- | --- |
| 9/2 | Div. IV | All-American Conference Blue Tier |
Campbell vs Girard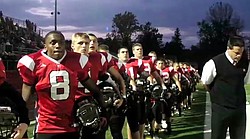 Video
Highlights from Campbell at Girard Oct. 1, 2011
By Greg Gulas
GIRARD
Some might call it a trap game while others might refer to it as simply the righting of the ship.
Either way, the paying customers are the ones who got their money's worth Friday at Arrowhead Stadium.
Campbell Memorial (6-2, 2-1), on the strength of 348 yards passing and three touchdowns from Brandon Reyes, knocked off previously undefeated Girard, 42-35, to forge a tie atop the All-American Conference Blue Tier.
"I'll take credit for the small part that I played, but this was an overall team effort that won for us tonight," said Reyes.
"Everything just came together and that is why it's such a big win. Ja'les [Hughes] was a big factor once again when running the ball and my passes just seemed to find the open receiver."
Reyes, who was 14 of 23 through the air, split time early with Hughes at quarterback but once he took over the signal-calling duties completely, he guided the Red Devils to 498 total yards and their third straight victory.
"The win is special for a variety of reasons," said Campbell coach Mickey Sikora. "Our goal has always been to win a league championship and with Newton Falls winning tonight, there's a three-way tie now in our division."
Girard's (7-1, 2-1) high-scoring offense got on the board first when Brandon Byrd hauled in a 32-yard scoring strike from Dan Graziano a little over two minutes into the game.
The Red Devils score d 20 unanswered points in the second period to forge a 20-7 lead, their scores coming on Reyes' 19-yard pass to Gabriel Smith; a 41-yard scoring strike from Reyes to Braylen Wigfall and Hughes' 29-yard run (his first of two rushing touchdowns).
"We had to play together as a team if we expected to win and that is exactly what we did tonight," said Hughes.
The Indians are the area's top-ranked offense and they showed why by scoring 21 unanswered points to take a 28-20 lead.
Eggleston scored just right before the half on a 51-yard pass from Graziano, then after the intermission he scored scoring on runs of 1 and 5 five yards.
Campbell scored the next three touchdowns, though, for a 42-28 lead before Girard narrowed the margin with a late score.
"Take nothing away from Campbell Memorial because they played an excellent game. I just don't know if we could have played any worse and still been in the game," said Girard coach Nick Cochran.