Ninth year of scares coming to Craig Beach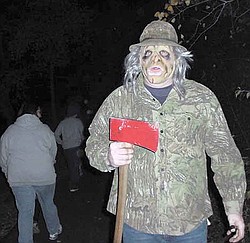 Photo
The Haunted Trail at Craig Beach in Lake Milton State Park will begin tonight, weather permitting. Last year on the trail, Sam Bartholomew dressed to scare walkers.
By Christine Keeling
Lake Milton
Workers were preparing this week for a ninth year of scares at Craig Beach.
The Haunted Trail in Lake Milton State Park will kick off tonight from 7 to 10:30 and will run the last three Fridays and Saturdays in October, weather permitting.
Those willing to brave the winding walk will be guided through several scenes and face a variety of monsters.
If the Tunnels of Terror or Gatekeeper prove to be too much, a tent filled with games, prizes and volunteers will keep the faint-of-heart occupied while the rest of the group makes the journey.
"We work on it year-round," said Katie Moore, the park's Ohio Department of Natural Resources naturalist. "It's not just a job or fundraiser but a time to tap into our creativity."
The haunted trail is staffed by the Craig Beach Volunteer Fire Department and is hosted by a nonprofit group, Keep Lake Milton Beautiful. Money raised goes to park projects, such as maintaining and expanding trails.
The cost is $6 for adults, $3 for children. Children 5 and under are admitted free. The trails are paved and handicap accessible.
"Eventually, we want to have a trail all around the lake," said Barb Neill, manager of Lake Milton State Park.
Planners began meeting once a week in late August, and setup at the park takes about a week. The group tries to change up the scenes each year so return visitors will experience something new.
Lori Brown has been a volunteer for the trail for four years and looks forward to the event.
"I like watching people get scared," said Brown. "And I like to scare them."
Concessions such as hot chocolate will be available to warm up the bones, but Neill also suggested people dress for the weather.