Oprah finally delivers on 2 cars given to Valley pair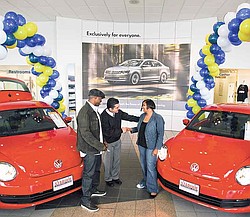 Photo
Jaime Garayua, general manager of Stadium Volkswagen in Boardman, presented the keys to two 2012 Volkswagen Beetles to Kimberly Winfrey and Toles. The cars were purchased by Oprah Winfrey, and the taxes and fees were paid by Volkswagen.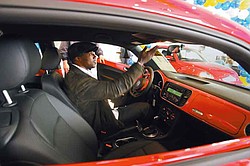 Photo
Deryck Toles of Warren checks out the 2012 Volkswagen Beetle 2.5L he picked up at Stadium Volkswagen in Boardman. He and Kimberly Winfrey of Warren were two of 275 audience members who received the prize during Oprah Winfrey's "Ultimate Favorite Things" episode that aired in November 2010.
By Christine Keeling
Boardman
Two Warren residents rolled off the lot as winners.
Kimberly Winfrey and Deryck Toles were presented keys Thursday at Stadium Volkswagen in Boardman for the 2012 Volkswagen Beetles they received as part of a giveaway package from an Oprah Winfrey's "Ultimate Favorite Things" episode that aired in November 2010.
"I guess we all have Beetle stories," said Jaime Garayua, general manager of the Stadium dealership. "Now Kim and Deryck have their first Beetle story."
Kimberly Winfrey, no relation to the daytime talk-show host, was all smiles as she saw the tornado-red exterior of her new car.
"Wow! That is cool," she said. "It's gorgeous."
When she hopped in to check out the black leather interior, she said she brought her iPod so she could hear how eight speakers sound on the way to pick her kids up from school. She was also excited to have heated mirrors.
For the second time in the Beetle's history, the car has been redesigned by its German manufacturer. It touts a sportier design, extra cargo space and improved fuel economy, and is available in a 2.0L turbo model.
Oprah purchased the vehicles, which had a retail sticker of $21,665 each, for 275 audience members, and Volkswagen paid all the taxes and fees.
Winfrey and Toles say they didn't know beforehand that they would be attending the coveted "Favorite Things" taping.
The daytime talk show picked the pair to come to Chicago after Kimberly Winfrey submitted a letter naming Toles as someone who inspires people. Toles, who attended Warren Harding High School and Penn State, is a former Indianapolis Colts player and founded Inspiring Minds in 2006. The nonprofit organization mission is to promote children's dreams by exposing them to new experiences.
Toles, who admittedly is not too familiar with Oprah, thought he would get to hear a good speaker. Then, "Snow and glitter started coming" from the ceiling, "girls started crying," said Toles. "I had no idea what was going on."
Because Oprah wanted the audience to have the latest model, she showed them only a silhouette of the car. Audience members received many of Oprah's favorite things, such as a Coach purse, $1,000 Nordstrom gift card and an iPad.
Toles said he kept the pots and pans he received and gave his mom a pair of pants, but the rest of the stuff and car will be auctioned to raise money for his organization.
Kimberly Winfrey said she plans to keep her car because she needs reliable transportation to get to her job in Hiram.
"All of Oprah's favorite things are now my favorite things," she said.
She said she plans to drive her 2005 Equinox in the winter.