Occupy Youngstown to target Wall Street and state Issue 2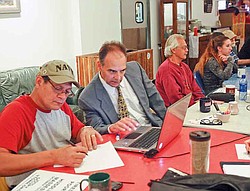 Photo
Members of Occupy Youngstown make plans at the Lemon Grove Café for a Saturday rally in downtown Youngstown. They are, from left, Rick Montanez of Lowellville, an unidentified man, Joseph Nestasie of Hillsville, Pa., and Lauren Lenio of Boardman.
OCCUPY YOUNGSTOWN
If you go
What: Occupy Youngstown protest.
When: Noon on Saturday.
Where: Downtown Youngstown at Market and Federal streets.
Why: To protest the disparity between the top 1 percent of income earners and the bottom 99 percent; to protest the corporate lobbying in the political system.
Contact info: www.facebook.com/occupyytown2011 or via Twitter using the hashtag #OccupyYoungstown. The group will also host a news conference at 3 p.m. today at The Lemon Grove.
Source: Brandon Smith, Occupy Youngstown spokesman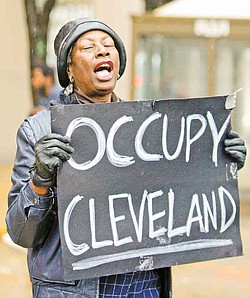 Photo
Mae Thompson, 67, protests Wednesday in Cleveland as part of the Occupy Wall Street movement. The demonstration is one of many across the country. An Occupy Youngstown protest will be Saturday in downtown Youngstown. The origins of the movement come from Canada and the Middle East.
By Karl Henkel
YOUNGSTOWN
Occupy Wall Street has met with mixed reactions in recent weeks.
The group, which asserts the country's wealthiest citizens have led to stripped-down living conditions for the so-called "99 percent of Americans," has been met with backlash by some and support by others.
Others have just been confused.
Occupy Youngstown, however, an offshoot of the original movement, hopes to pinpoint its exact objectives before Saturday's noon rally at Market and Federal streets downtown.
Its organizers say one thing it won't be is a replica of the arrest-filled demonstrations on Wall Street.
Instead, group organizers, who expect between 50 and 300 participants Saturday, say it will have a local twist.
The group will take on Issue 2, also known as Senate Bill 5, which if passed in November, will curb some collective-bargaining rights for public employees.
But in a time when Democrats can't work with Republicans and when most of the "99 percent" abhors the wealthy, Issue 2 appears to split a group's mission.
"It is to a certain extent," Brandon Smith, a spokesman for the Occupy Youngstown movement. "But when it comes down to it, a big issue of 'the 99 percent' is workers' rights and that's tied to Senate Bill 5."
Issue 2 may be the hot-button issue here in the Mahoning Valley, but the group also hopes to educate the public about positive changes going on in the region.
"There are groups and individuals here trying to revitalize the community," Smith said.
One of those leading the revitalization is Jacob Harver, owner of The Lemon Grove Caf , which has hosted Occupy Youngstown's meetings.
"We're not simply whining or complaining about the national economy," Harver said. "We, as Youngstown, are doing some things to make it a sustainable and prosperous economy."
The group still will align itself with Occupy Wall Street, even though this area includes only two of the top 10 banks in America.
But it doesn't agree with the narrow focus on Wall Street and corporations, which are playing within the rules and guidelines set forth by the federal government.
Harver mentioned last year's landmark Citizens United decision of the Supreme Court, which allows corporations to donate unlimited funds to campaigns.
"The bigger issue is that the politicians allow these loopholes and deregulations to continue," Smith said. "There needs to be a more 'Occupy Washington' focus."
Wall Street, however, continues to be the focus, especially with a new movement, "Bank Transfer Day."
That group's Facebook page — which had more than 26,000 fans as of Wednesday morning — urges "the 99 percent" to remove money from major banking institutions and transfer it to a local bank or credit union by Nov. 5.
"We will send a clear message to the 1 percent that conscious consumers won't support companies with unethical business practices," the page reads, referring to practices like forced foreclosures.
"Bank Transfer Day" may have its limitations, said John Gulas, president and CEO of Farmers National Banc Corp. because deposits are just one piece to the overall banking pie.
"Community banks' lending limits kind of create the need for larger institutions," he said. "It would have more of an impact if the entire relationship shifted to community banks."
Smith thinks it will still make a point, however.
"This is a great way to send a message to these banks," Smith said, "to hit 'em in the wallet."