Playoffs goal of returning Phantoms
PHANTOMS SEASON OPENER
Vs.: Cedar Rapids RoughRiders.
When: Friday; faceoff at 7:30 p.m.
Where: Covelli Centre.
Internet: ushl.fasthockey.com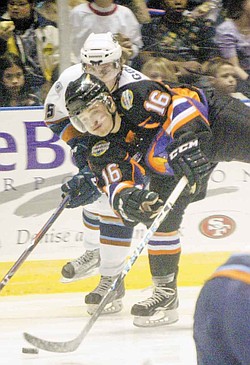 Photo
The Youngstown Phantoms' Ryan Belonger (16) is returning to the ice on the Phantoms' top line with Mike Ambrosia and newcomer Auston Cangelosi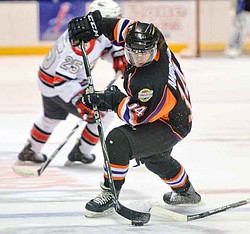 Photo
The Youngstown Phantoms Mike Ambrosia (14) moves the puck during a game against the Chicago Steel. Ambrosia, who score 10 goals and had 18 assists last season, is returning to the ice on the Phantoms' top line with 21-goal scorer Ryan Belonger (16), and newcomer Auston Cangelosi.
By Tom Williams
YOUNGSTOWN
In April, the Youngstown Phantoms weren't eliminated from the USHL playoff race until their final game ended.
If the Phantoms are to take the next step and earn their first postseason berth, it will be up to the dozen players returning for the 2011-12 season to show the way in the Phantoms' third year in the top-tier junior league.
"You've been through the league on and off the ice so you just want to help the younger guys out if they need help and be a leader on the ice," said forward Mike Ambrosia who scored 10 goals and 18 assists last season.
Ambrosia is playing on the Phantoms' top line with 21-goal scorer Ryan Belonger and newcomer Auston Cangelosi.
Goaltender Matt O'Connor (10-16-2, 3.43 goals-against average) said the veterans need to back it up with their play.
"The leadership role is important for returning guys, but honestly, playing well on the ice is the most important way to help this team.
"With respect to showing the new players the way we carry ourselves off the ice in the community, that's a big role for me," O'Connor said. "Obviously, all the returning players want to make sure this year is even better."
Belonger, who scored 35 points last year, said he's feeling more confident after his second training camp.
"I think there's a better understanding of our coaches, where they are at, what we need to do as a team to improve and excel in this league," said Belonger who has yet to make his college choice. He recently visited Merrimack College in Massachusetts where last year's Phantoms head coach, Curtis Carr, is an assistant.
Whatever school he chooses, Belonger, like Ambrosia (Princeton) and O'Connor (Boston University) plan to be in college this time next year.
For now, they're doing all they can to help new Phantoms coach Anthony Noreen get the team off to a strong start in the 16-team USHL.
The key will be O'Connor's health. The 6-foot-5, 193-pound goalie's record was around .500 when he suffered a hip flexor injury last December.
O'Connor tried to play through the pain but eventually he sat out most of January to give the injury time to heal.
Then one week after his return in February, O'Connor suffer knee ligament damage when he was crashed into during a practice and missed the rest of the season.
"The injury to Matt was really a fluky thing," Noreen said. "It wasn't from him being overworked. It was just a guy fell on him awkwardly in practice. It was really just unlucky."
O'Connor did not have surgery, instead resting his leg before an off-ice rehab program to build up power and strength. He was well enough in July to attend the Ottawa Senators' development camp.
"That was an unbelievable experience, one of the highlights of my [career]," the Toronto native said. "To be able to train and practice with those high-end players, some of which are already playing pros with the Binghamton Senators [American Hockey League].
"To be able to train like a pro for that week and to be experience what it's like at the next level ... was an unbelievable experience."
The Phantoms (1-1-0) split their first two road games. They lost to Team USA's 17-under squad, 10-3, then rebounded with a 3-0 victory over the Chicago Steel. O'Connor stopped 22 shots. Cangelosi scored two goals, one set up by Ambrosia and Stephen Collins, another returning Phantom.
"He's a hard worker," said Belonger of Cangelosi. "He's definitely more of a skill guy, he just has that natural ability to make plays."
Ambrosia said, "Austin is a great player — a fast, skill player."
The season continues this weekend at the Covelli Centre with games on Friday and Saturday against the Des Moines Buccaneers.
Ambrosia said the Phantoms must carry a blue-collar work ethic onto the ice in order to succeed.
"We're going to have to battle hard, get a lot of shots on net," Ambrosia said. "We're not going to be the prettiest team but that's [how] we're going to have to be if we want to win games in this league."
Also back are forwards Dylan Margonari, Alex Gacek and JT Stenglein; goaltender Sean Romeo; and defensemen Chris Bradley, Jordan Young, Kevin Liss and Justin Stevens.
"Last year, we were very good on paper," Belonger said. "We had a lot of skilled players.
"But we didn't put it all to use as much as we could have," said the Green Bay, Wis., native who added that the team has "a different kind of mentality to take things to a different level."
O'Connor said the key is to look ahead.
"You always want to not go back to memory lane of what you've done," O'Connor said. "I was told that if you are still happy with what you did yesterday you haven't done anything today.
"The way the game is, with new players and new competition, you always have to look forward."
More like this from vindy.com