Cardinal Mooney girls soccer wins 3-2 over Canfield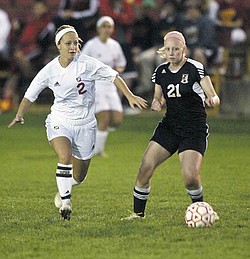 Photo
Mooney's Amy Vinopal, left, and Canfield's Erin McGraw go for the ball during Monday's game at the Simon Soccer Park in Struthers. Vinopal scored two goals and assisted on the game-winning goal in Mooney's 3-2 victory.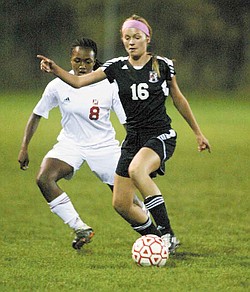 Photo
Mooney's Lindsey Parkins closes in on Canfield's Kaylee Buchenic (16) during Monday's game. Parkins scored the gamewinning goal for Mooney. Buchenic had an assist for Canfield.
By Tom Williams
STRUTHERS
Kaylee Buchenic's long shot that deflected off both goalposts to teammate Bailey Fischer for tap-in goal had the Canfield High girls soccer players feeling as if the bounces were going their way against Mooney.
Fischer's goal with 17:37 remaining gave Canfield a late lead on Monday at the Simon Soccer Park.
But the advantage soon evaporated after Amy Vinpopal tied the game off a direct kick. A minute later, Vinopal sent a cross pass to the center of the field where Lindsey Parkins bounced it off her head into the net for a 3-2 Mooney victory.
"On crosses, you're always just looking to center the ball, hoping someone is in there," Vinopal said. "I didn't get a glimpse of Lindsey; however, I did see the three defenders around her.
"So I wasn't really sure it was going to go in but she came through."
Canfield coach Phil Simone wasn't surprised to see Vinopal earn three points.
"She's the heart and soul of their team," Simone said. "She gets through a lot."
Mooney coach Frank Sikich said Vinopal added to her resume for player of the year honors.
"She's proven it these last several games [with] her leadership and clutch performances," Sikich said.
Sikich said his squad (11-2-1) was inspired by their second seed in the district tournament. Canfield (6-5-3) has the top seed and the two could meet again in the district final.
"The girls had something to prove today to the other coaches because Canfield got seeded one," Sikich said. "Our girls stuck in there and took advantage of the shots they had.
"It was a pretty good preview game for what you have coming for the tournament," Sikich said.
Vinopal's first goal was assisted by Andrea Ryhal and tied the game at 1-1.
With time ticking down, Mooney goalkeeper Rachael Letscher stopped Paige Bidinotto on a breakway to preserve the victory.
"We never give up," Vinopal said. "You don't panic until the last two minutes — that's crunch time."
Letscher made 16 saves, including nine in the scoreless first half.
"It's always a tough game because [we're] rivals," said Letscher, who called Buchenic's shot very unusual. "I saw it hit [the second time] and I tried to get up. It's very rare that it hits both times like that. That was crazy."
Canfield goalkeeper Jen Morris made four saves.
"We lost track of [Vinopal] a couple of times but I think overall we played well," Simone said. "We were pressuring them all game but we couldn't get that last little push through the back line."
With 29 minutes remaining, Bidinotto gave Canfield a 1-0 lead. Kendyl Carlisle's corner kick bounced off a Mooney defender to Bidinotto who shot it off another defender into the net.
"We knew they had a lot of speed," Sikich said of Canfield. "In the second half, they had better shots."