Bishop vows openness with sex-misconduct case
Letter to Sts. Philip and James Parish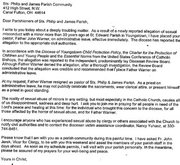 Document
A copy of the diocesan letter to parishioners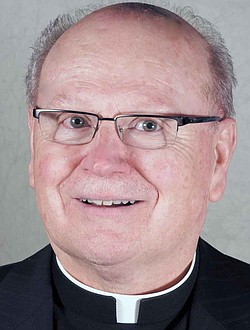 Photo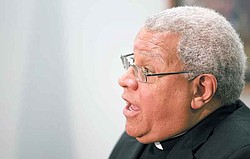 Photo
By Christine Keeling and Ashley Luthern
Youngstown
Bishop George V. Murry vowed the Catholic Diocese of Youngstown is committed to transparency, in the wake of another case of a priest's resignation amid sexual misconduct allegations.
Father John Warner, 69, resigned as pastor of Sts. Philip and James Parish in Canal Fulton after an allegation that inappropriate touching occurred more than 30 years ago at St. Edward Parish in Youngstown was reported to church officials in June.
"None of this is going to be hidden," said Bishop Murry on Monday at a news conference. "The only way we can move forward is to be open and transparent."
That was met with skepticism from the Survivors Network of those Abused by Priests.
"It was very surprising when Bishop Murray said that they received the allegation June 20. This is October. Why did it take so long? He should have been removed and this made public as soon as possible," said Judy Jones, SNAP Midwest associate director, who applauded the individual who spoke out about Father Warner.
The bishop said the victim decided to come forward June 20 after talking to his family and Warner took personal leave June 30.
In accordance with the child protection policies adopted by the Catholic church, an investigation was done by two former FBI investigators and turned over to a diocesan review board. The board concluded the allegation was credible, and Bishop Murry placed Warner on administrative leave and asked that he resign from his parish.
Warner will not be able to publicly celebrate the sacrament, wear clerical attire or present himself as a priest in good standing. Bishop Murry said Warner is receiving psychiatric treatment in a facility for priests.
An evaluation and report will be sent to Rome, and information collected was sent to Mahoning and Stark county prosecutors and children-services agencies. Warner will not be returned to active ministries, said Bishop Murry.
"We will fully cooperate," said Bishop Murry. "We have a legal and moral obligation to do so."
The victim has so far refused counseling from the church, said Bishop Murry.
Father John Jerek, vicar for clergy and religious services, said parishioners at St. Edward's received the news Sunday with sadness and understanding. The bishop said all parishes that Warner was involved with were notified.
Warner was ordained in May 1970. He was born in Toronto and moved to the Youngstown area in 1959, according to Vindicator records.
He graduated from Girard High School in 1960 and entered St. Gregory Seminary in Cincinnati in 1962. He received a bachelor of arts and master of divinity degrees from Mount St. Mary Seminary.
During the 1970 school year, he served as a caseworker at the Catholic Charities in Cincinnati and as a deacon at St. Albert Parish in Dayton.
He was named an assistant to St. Peter Parish in Canton in 1970; three years later, he was assigned to be assistant pastor at St. Mary in Warren; and in 1976, he was named an assistant pastor at St. Edward Parish in Youngstown, where he remained until 1982. Afterward he served as assistant pastor at St. Joan of Arc Parish in Canton until 1984, Our Lady of Perpetual Help in Aurora until 1996 and at St. Paul Parish in North Canton until 1999. He served as pastor at St. Vincent DePaul Parish in Vienna, St. Bernadette Parish in Masury, St. Aloysius Parish in East Liverpool and St. Peter and Paul Parish in Youngstown. He also was as a part-time chaplain at St. Elizabeth Medical Center in Youngstown in 1999. He'd been at Sts. Philip and James Parish since 2003.
"If there are more victims, we want them to come forward," said Bishop Murry. "So they can find peace."
Bishop Murry urged anyone who has experienced sexual abuse by clergy or members of the church to notify local police or the diocesan victim's assistant coordinator, Nancy Yuhasz, at 330-744-8451.
Jones also encouraged any other victims of abuse by priests, clergy or other parish staff members in the Youngstown Diocese to come forward.
"It's a crime, and it doesn't matter how long ago that it happened — it's still a crime. The church officials aren't the police. The police are the ones who should [investigate it]. It may be past the statute of limitations, but who knows, [the police] might have other knowledge or other reports," Jones said.
Jones said victims also can contact her at 636-433-2511 or go online to SNAPnetwork.org.
In July 2010, a Catholic priest who was accused of sexual abuse while he taught at Cardinal Mooney High School was defrocked.
Thomas Crum, who served in the Diocese of Youngstown from 1975 to 2009, was removed from the priesthood after abuse allegations were leveled at him in May 2009. At least three people said Crum abused them at Cardinal Mooney. Crum was assigned to Cardinal Mooney from 1975-77.