Oft-traveled student puts past in rearview mirror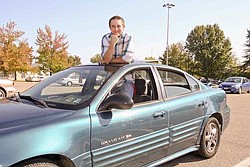 Photo
Charles Flesch, a student at Austintown Fitch High School, pokes out of the sunroof of his car. After attending 17 schools in four states, he's confident he's found a place he can call home.
By Christine Keeling
Austintown
One high school student isn't letting adversity stand in the way of his education.
As a child, Charles Flesch lived in a car, a tent and a junkyard. He attended 17 schools in four states.
But now, at 18, he has found a place to call home and enrolled himself as a junior at Fitch High School.
"I have a chance to stay in one place and finish school," said Flesch. "The house I live in now is, like, amazing."
Flesch contacted Patricia McCale and her husband, Thomas, to see if he could live with them in their Austintown home, after he was placed in a foster home in North Carolina.
For a time, McCale said, she lost track of Flesch, though she's known him since he was a child. They are not blood-related, but he calls her "Grandma."
"I'd been wanting to take him," said McCale. His family "moved constantly."
The McCales put aside $200 in rent Flesch paid them each month since July and then gave it to him so he could put it toward a car.
"I want him to learn responsibility," said McCale. "Because he has been on the run all his life."
She didn't push him to go to school, because he is an adult, but she is proud of his choice.
Flesch knows he will be 20 when he graduates but isn't letting that dampen his enthusiasm.
His goal is to make a good living so he can buy some of the things he never had.
He is a member of Students Taking A Responsible Stand and is making new friends.
"I think he is a really strong kid from where he's coming from," said Flesch's friend, Kyle Stevens, 16. "I don't think any human being should have to live in a car."
Traditional homes are not a big part of Flesch's childhood memories. He was born in Youngstown but moved almost every year with his mother and stepfather between his hometown, Indiana, North Carolina and Massachusetts. His father died when he was 5.
Before he entered the fifth grade, the family spent an entire summer and the first few weeks of school living in a tent in Cherokee, N.C.
A Ford Taurus was his home in sixth grade, and at 15, he lived in a camper in a junkyard.
"I was so excited when we got running water," said Flesch.
On numerous occasions he has stayed in shelters, eaten in soup kitchens and had his personal possessions pawned or stolen.
It made buying his first car, a 2002 Pontiac Grand Am, all the more special.
"I love my car," said Flesch. "I've never had anything, and the fact that no one can take it from me makes me happy."
He said he always tries to tell people not to let what's happening today bother them because life can always get better.
When he graduates from high school, he plans to go to college. He wants to be a commercial pilot.