Green vision focuses on Sheet & Tube company homes

Photo
Tim Sokoloff of the Iron Soup Historical Preservation Co. stands near a solar-powered streetlight system at the former Sheet & Tube company housing area in Campbell. Sokoloff and his crew are working to create the world's fi rst self-sustaining "Environminiums."
Solar Street Lights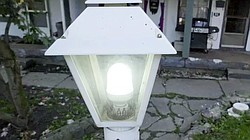 Video
A historical neighborhood in Campbell, Oh. is getting a dose of modern technology.
DONATIONS
Iron Soup Historical Preservation Co., a nonprofit organization, accepts donations of money or items.
To donate money, send a check to:
Iron Soup Historical Preservation Co.
40 Chambers St.
Campbell, OH 44405
You also can donate money online using PayPal. Go to www.ironsoup.com.
Or, make a donation at any First National Bank branch.
The group also accepts donations of old electronics (except for televisions and computer monitors), tools and building materials. You can deliver items to the office at 40 Chambers St., or call Tim Sokoloff at 330-531-2883 to arrange for items to be picked up.
By Jeanne Starmack
Campbell
On Chambers Street in front of a row of old concrete row houses stand two unassuming little streetlights.
They're decorative, though on closer inspection, the white posts are revealed to be recycled PVC pipe. The fixtures were donated by a man from Poland who redid his patio. And the wiring that runs the charger for them came from an old satellite dish.
What makes these lights special is not so much what they're made of but what they run on. On the roof of the row houses is a solar panel. When dusk comes over that corner of the old company homes for the former Sheet & Tube steel mill, those lamps glow brightly — for free.
For the people who designed the solar-panel lighting system, those two lights are a triumph. They're working "way better than anticipated," said Tim Sokoloff, team leader for the Iron Soup Historical Preservation Co.
"If we had funding, we'd put up two more," Sokoloff said last week as he showed off the lights, which are across the street from Iron Soup's office in another row of units.
If they had 20 of the lights, he believes, the city could save some money.
"We could get rid of those," he said, pointing to the big, overhead streetlight that looms over Chambers like — an old dinosaur.
Sokoloff's vision for the future is, literally, starting to see the light of day, and if he has his way, that future will be housed in a monument to the past — the company homes. There are 179 of the one- and two-bedroom, two-floor units left out of 284 that were built in 1918 to house mill workers and their families.
On the National Register of Historic Places, they were the first of their kind — pre-fabbed concrete rows with indoor plumbing and electricity. They were small, to discourage immigrants from cramming a lot of family members into one unit.
In what sounds like the ultimate recycling project, they'll be the first of their kind again, Sokoloff hopes, by becoming the world's first self-sustaining "Environminiums."
Sokoloff leads a crew of approximately six people who live in some of the 19 Iron Soup-owned units and work to restore them.
Environminiums, he said, will generate 125 percent to 180 percent more energy than is required to operate them.
They'd be equipped with individual apartment windmills, though Sokoloff would like to install some bigger windmills in the area. They'll have LED lights, 12-volt appliances and super-energy-efficient heating and air-conditioning. Sokoloff said the group has even designed a thermopane window that acts as a furnace in the winter and an air-conditioner in the summer. The windows would be so energy-efficient that tenants could make money by selling power to the power company, he said. "Our meters would run backwards."
A lack of funding, which is a pervasive problem for Iron Soup, has prevented the group from producing those windows.
The group, which now has federal and state nonprofit status, has been existing on donations and fundraisers. Its members do odd jobs and make enough to sustain themselves.
"We are a self-sustaining entity, but just barely keeping the lights on," Sokoloff said.
Sokoloff's quest toward restoring the historical homes and remaking them into Environminiums began when someone gave him a unit in 2007.
Many of the remaining units are being restored by other landlords and are lived in; others are boarded up and neglected, though their concrete walls stand defiant against time and the elements.
Eventually, Sokoloff said, he'd like Iron Soup to acquire all the homes, and he'd like to attract investors and donors. Lacking the skills of a grant writer, the group has been unable to pursue grants.
For now, he said, Iron Soup is focused on getting one Environminium up and running. The group also wants to use the technology of its solar panel system to turn the last original unit — 50 Chambers St., which hasn't been changed since 1918 — into a museum.
"With regular electric, it would catch fire almost immediately," he explained. Instead, the group will install 12-volt lighting.
Sokoloff said it hasn't been easy for his group, but he believes they've made a difference in "our little corner of history."
He said Iron Soup's presence has reduced crime, thanks in part to security cameras it's installed. Police Chief Gus Sarigianopoulos said there is no readily available data to show that.
He said, though, that there's no doubt the group's presence has made a difference.
"They're there watching their properties, and they have cameras up," he said. "That would definitely deter crime — to what extent, I don't know."
Sokoloff said the group experienced some problems with crime and vandalism in the first few years it was getting established, but not so much anymore.
"We are ready for an investment now," he said.
One person who said she's glad to hear that is Florence Galida, head of the Campbell Historical Society, who was born in a company home, 24 Chambers St., in 1934.
"I don't want to see the ones torn down that are still good," she said. "It doesn't take much to fix them up."
Some of Sokoloff's ideas for the future sounded like throwbacks to Galida, reminding her of her days at the homes.
The sense of community that Sokoloff's group has reminds her of the close-knit families who somehow raised several children in the small homes, with teenagers looking out for younger ones and a competition of sorts to keep the homes "nice and clean."
An idea Iron Soup has for an urban farm on vacant property in the area reminds her of the community gardens company-home families had on land northeast of the complex, before there were houses there. There was no room for home gardens in front of the units, she said.
There are many people still in Campbell, in their 70s and 80s now, she said, who remember the company homes with fondness.
She, along with Sokoloff, would love to see those concrete walls stand long into the future.