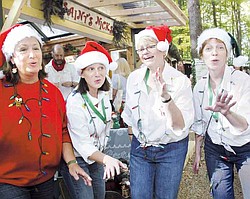 Photo
Visitors to the Shaker Woods Chistmas In the Woods Festival on Sunday were treated to the sounds of Reckless, a vocal group based out of Pittsburgh. The singers donned Santa hats while they performed. From left, they are Nancie Jaicks, Sharon Peters, Peggy Sue Henshey and Nancy Conway.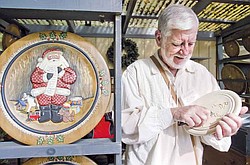 Photo
Woodcarver Don Lorigan of Kittanning, Pa., works on one of his hand carved and hand painted holiday plates at Christmas in the Woods festival.
IF YOU GO
What: The 17th annual Old-Fashioned Christmas in the Woods event.
When: 10 a.m. to 5 p.m. next Saturday and Sunday.
Where: 44337 County Line Road, Columbiana, about a half-mile west of state Route 7.
Cost: $7 for adults. Children 12 and under are admitted for free.
By Sean Barron
COLUMBIANA
If you spent Sunday on the Shaker Woods grounds and were able to overlook the 80-degree weather, people in shorts and most trees still in full leaf, it probably was beginning to feel a lot like Christmas.
Nevertheless, most of the homemade and hand-crafted items for sale likely made many of the thousands who came to the 17th annual Old-Fashioned Christmas in the Woods event feel more connected to the holidays.
"Many people [also] are looking for gifts made in the U.S.," said Linda McGaffick, who with her husband, Ken, promotes the annual gathering on the Shaker Woods grounds, 44337 County Line Road.
The event continues from 10 a.m. to 5 p.m. next Saturday and Sunday on the grounds.
An estimated 200 local, regional and out-of-state artisans, crafters and other vendors are showing and selling their wares at the festival, set up to get people in the holiday mood and give them an opportunity to jump-start their Christmas shopping, McGaffick explained.
Merchandise includes everything from traditional small wooden Christmas trees and candy canes to hand-painted crystal fingernail files. For those who wish to take home a rock-solid gift, there's Dan and Barbara Dunleavy.
The Dunleavys run "Custom Garden Rocks," a Hatfield, Pa., business where they place a vinyl stencil on bluestone rocks of numerous sizes and shapes and sandblast, then add customers' logos and sell them.
Sports fans at the festival who walked by Dunleavy's large stones probably read something to their liking, with logos such as "Go Steelers," "We are Penn State" and "Cleveland Browns" prominently displayed. Also for sale were various pet markers.
"I was looking for something else to do when I ran into a guy making them, and then I went on my own," Dan said, referring to how he started working with rocks about 20 years ago.
Among handmade items at the festival are teddy bears, clothing made from alpaca wool, wooden birdhouses and countless Christmas ornaments. Other merchandise includes statues and snowmen, handbags, dolls and doll clothing and accessories, scented candles, figurines, Nativity sets and knitted hats, scarves and purses, courtesy of E.J. Krall.
"I've been here since [Christmas in the Woods] started," said Krall, who owns Catasauqua, Pa.-based "The Knit-Wit Shop."
A steady stream of customers stopped to see the handiwork of Krall, 72, who had spent about 35 years as a wreath maker before returning to knitting eight years ago. Knee problems made it difficult for Krall to continue making wreaths, which required standing for eight hours a day, she recalled.
It wasn't long, though, before Krall returned to knitting after a 30-year hiatus. The pastime is nothing new for Krall, who knitted items for her children when they were small.
"I enjoy knitting as a hobby, and it gives me great pleasure to create wearable art others can enjoy," said Krall, adding that she used to appear in roughly 30 crafts shows a year, most along the East Coast.
Assisting Krall was Andrea Groves of Austintown.
Sandy Barnard of New Middletown didn't have any decorative clothing, though she had plenty of decorative pieces for the mantel to wear.
Barnard, owner of "Creative Clay Collections," places liquid ceramic clay into a kiln, then uses oil or a dry-brushing technique and paint to make Santa Claus figurines from 21 countries, as well as reindeer and many other pieces. She also teaches ceramics classes from her home.
"I don't think I could ever give up painting, until my hands stop working," she added.
Helping Barnard was her 9-year-old granddaughter, Molly, of New Middletown.
Entertainment includes bluegrass, country-western and Christmas music by B.E. Taylor of Wheeling, W.Va., a nationally recognized recording artist and performer.