Lawn-con draws comic crowd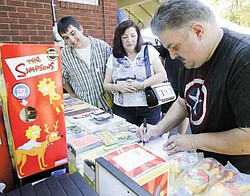 Photo
Chris Yambar signs a drawing for Nancy Schepka of Poland and her grandson, Jordan Varkonda, during Lawn-Con in Yambar's front yard.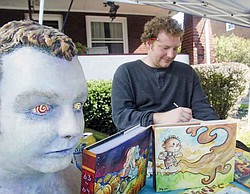 Photo
Jimmy Proctor, an artist from Springboro, Pa., creates custom covers for books. He was at Lawn-Con, a free comic book show, which took place Saturday in the Hartford Avenue front yard of local artist Chris Yambar.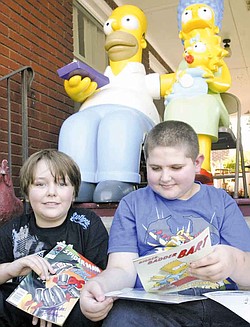 Photo
Homer, Marge and Maggie Simpson watch over Solomon Kennedy, 8, of Youngstown, and Jay Dulin, 11, of Austintown, as they look at comic books Saturday during Lawn-Con in the yard of local artist Chris Yambar.
By ELISE McKEOWN SKOLNICK
YOUNGSTOWN
A tiny West Side yard was transformed into a comic- book lover's dream.
Tents shaded comic-book creators and other vendors. A life-size Simpson trio — Homer, Marge and Maggie — were set up for anyone who wanted to pose for pictures. And American Dream and White Tiger made an appearance.
It was the second annual Lawn-Con, a free comic-book show, Saturday in Chris Yambar's Hartford Avenue yard.
The goal is to bring together comic-book fans and those working in the industry.
Lainey Zupko, a 16-year-old from Cincinnati, was in town visiting her grandmother. An aspiring comic-book writer and artist, Zupko jumped at the chance to learn more about the industry.
"We came to check it out and see if I could get advice," Zupko said. "I learned a lot. They told me what I should do for my education and what classes I should take."
Zupko's stepfather, Jeff Cepin, also of Cincinnati, saw the event as a good place to get an idea where she should go with her education.
"These days — college, art schools — what do we do? So we're looking for any insight we can get," Cepin said.
Chris Zeigler of Canfield attended the event with his daughter, Maggie, 8, and son, Ricky, 11, both of Niles.
"I brought my kids out to see some of the comics and some of the characters that are here," Zeigler said. "Plus, I've heard that some of the work is really good."
The kids had their faces painted with masks — Maggie sported a pink, silver and black mask that matched her outfit, and Ricky, a zombie look.
The strongman was a favorite of the pair. Maggie enjoyed watching him bend a thick nail and tear an entire deck of cards in half.
Ricky and Maggie also received books from First Book of Mahoning Valley, an organization that grants books to low-income children and to groups that serve them.
To get the word out about First Book, they give out books at events such as Lawn-Con, said Amy Neral, chairwoman.
American Dream, also known as Freddie Nova of Cleveland, posed for pictures and talked with fans, as did her friend White Tiger, who is really Tiffany Perry of Washington, D.C.
"I'm a huge comic nerd," Nova said. "I needed another hobby, so I started making costumes and going to conventions. You meet some really great people and have a great time."
Nova has two dozen costumes.
Perry got involved when Nova invited her to attend a comic-con.
"Creating the costumes is really fun. You get to create something unique and personalize it for yourself," Perry said. "But then you do meet amazing people at these cons. It's a really fun time. I love it."