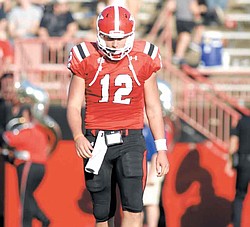 Photo
Youngstown State quarterback #12 Kurt Hess walks to the sideline after throwing an interception in the second quarter.
By Joe Scalzo
YOUNGSTOWN
Youngstown State's playoff hopes died suddenly Saturday afternoon at their home at Stambaugh Stadium. They were five games old.
A coroner determined that several factors contributed to the cause of death, including ill-advised penalties, poor pass coverage, turnovers and an inability to score touchdowns in South Dakota State territory.
The playoff hopes were survived by 60 members of the Penguins' traveling team. Flowers and sympathy cards may be sent to the team's offices at One University Plaza, Youngstown, OH, 44555.
No services will be held.
The players shuffled into the locker room, heads down, mouths closed, stomachs sick. The coaches leaned up against wall, staring at nothing.
Sixteen games into the Eric Wolford era, the Penguins suffered their most baffling and bewildering loss on Saturday, falling 35-28 to a Jackrabbit team that had lost four straight and was starting a redshirt freshman quarterback.
"There's plenty of blame to spread around," said Wolford, who dropped to 5-11, including 1-9 in Missouri Valley Football Conference games. "I told these guys you've got to look at yourself in the mirror first. Coaches included.
"There's plenty of football left, but we can't continue to lose these close football games. We've got to find a way to get over the hump and find a way to get it done."
Coming off an open date after the Sept. 24 loss to Indiana State, the Penguins (2-3, 1-2) shook off a poor first half to take a 28-21 lead entering the fourth quarter.
But SDSU QB Austin Sumner found Aaron Rollin for touchdown passes of 5 and 73 yards — burning both of YSU's freshmen cornerbacks in the process — and the Penguin offense had no answer.
YSU's final five possessions all ended in South Dakota State territory.
None ended in points.
Trailing 35-28, YSU's final drive stalled at the Jackrabbits' 17 as Kurt Hess misfired on four straight passes, the last too high for Jelani Berassa at the 2-yard-line with 40 seconds left.
"We had them," said junior running back Jamaine Cook, who carried 18 times for 107 yards and a touchdown. "We should have held them down when we had them."
After four solid games, Hess had his worst outing of the season, completing just 18 of 34 passes for two touchdowns and two interceptions. The touchdowns both came on broken plays as Christian Bryan and Jelani Berassa broke open behind the SDSU defense for 51 and 48 yard touchdowns, respectively.
YSU's other touchdown came on a 27-yard interception return by freshman linebacker Davion Rogers with 8:47 left in the third quarter, making it 28-21.
That touchdown came off a tipped pass that went too high, one of the few misfires for Sumner, who completed 22 of 35 passes for 345 yards and four touchdowns.
When asked to explain the fourth-quarter breakdowns, defensive tackle Andrew Johnson shook his head.
"I can't really explain it," he said. "I can't really even answer that question fully.
"I know me and my fellow D-linemen go hard and try our best and I'm pretty sure everyone else did."
With North Dakota State and Northern Iowa unbeaten and looking almost unbeatable in the opening weeks, the Penguins' chances of winning the league title or making the playoffs this season seem as good as its chances of bettering Saturday's announced crowd of 16,209.
But Wolford said they'll keep trying.
"We haven't arrived yet but that doesn't mean we're not going to keep working," he said. "We expect to bounce back."
---
Kicker picker: With the game tied at 28 with just more than six minutes left, YSU coach Eric Wolford opted to have punter Nick Liste attempt a 41-yard field goal instead of kicker David Brown. Liste, who has a stronger leg, had plenty of distance but was wide right. It was the first collegiate field goal attempt for the Niles High graduate, who handled both duties in high school. "I didn't feel real good about Brown's timing of extra point kicks," Wolford said. "I thought they were getting pressure there late. Anything outside of 40, I'll probably go with Liste. I just took a shot with him." On the ensuing play, Jackrabbits receiver Aaron Rollin beat freshman CB Jimmy May deep for a 73-yard touchdown that turned out to be the game-winner.
Killer play: South Dakota State repeatedly gashed YSU's defense in the first half with inside slants, the same play that victimized the Penguins in their win over Illinois State on Sept. 17. "I'm not going to make any excuses," Wolford said. "We practiced the slant just about every day and we work on it in individuals."
Missed call: Midway through the third quarter, YSU punt returner Josh Lee lost a fumble at the South Dakota State 47. Replays seemed to show that Lee's knee was down before the fumble but there are no replay reviews in FCS football. The Jackrabbits went three-and-out on the ensuing possession.
This and that: YSU honored members of the 1991 national championship team at halftime. Former coach Jim Tressel did not attend. ... YSU has lost four straight to SDSU. ... Linebacker Teven Williams led the Penguins with 10 tackles. DT Andrew Johnson had two sacks. ... The Penguins committed a season-high eight penalties for 60 yards. ... YSU's leading receiver, Christian Bryan, was held to a season-low one catch. ... Junior RB Jamaine Cook (107 yards) rushed for more than 100 yards for the fourth straight game and 10th of his career.