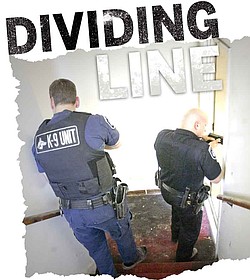 Photo
Liberty police officers Ray Buhala, left, and Robert Altier, right, inspect a vacant apartment building in the southern part of the township. As the township evolves from a rural to an urban setting, police are forced to fight a change in the types of crimes with a dwindling police force.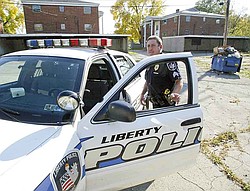 Photo
Liberty policeman Sgt. Daniel Kovach inspects a vacant, southside apartment. As the line between the township and Youngstown blurs, drug-related crimes over the past decade have increased.
Liberty
On a routine inspection of the mostly vacant Northgate area of south Liberty, Sgt. Daniel Kovach noticed an apartment basement window knocked out and the front door unlocked.
Within minutes, Patrolman Ray Buhala, with his K-9, Capo, and Patrolman Robert Altier arrived. With the afternoon sun behind them and handguns at the ready, they entered and cleared the apartment finding only the remnants of someone's living there illegally and the drug paraphernalia they left behind.
The incident is a microcosm of not an uptick but a change in crimes committed in Liberty, particularly along its border with Youngstown, as the township evolves into a more urban identity.
"The only thing that separates us [from Youngstown] is an imaginary line that runs down Gypsy Lane," said Liberty Police Chief Richard Tisone.
Although violent crime decreased over the last 10 years, crimes involving drugs, burglary, robbery and concealed weapons all have increased.
"There was a time when we had a lot more bars and restaurants out here," Tisone said. "But now we are getting more calls related to drugs, guns and domestic violence."
For example, crimes involving drugs increased from 70 in 2000 to 151 in 2010. And 2011 is following the trend with 139 drug-related crimes reported with more than 21/2 months remaining in the year.
Kovach, in his 18th year as a police officer, estimates up to 60 percent of the daily calls are related to drugs.
"The economy is causing a lot of our problems," he said while driving south through a stretch of the township within walking distance from Northgate but seemingly straight from a Robert Frost poem with medium-sized homes, pine trees and ducks floating across a pond.
Along Belmont Avenue where moderate-income areas touch lower-income areas, business is picking up, Kovach said.
People don't steal for the thrill. They steal to quickly turn around the item for drugs, he adds.
As crime has increased, the Liberty Police Department has faced a shrinking budget and a losses in personnel. Two years ago, the township trustees instituted a hiring freeze across all departments, and the number of officers in the department decreased due to attrition from 24 in the mid-2000s to 17 currently.
As the department has sought to do more with less, it has collaborated with Youngstown police in controlling crime along the township's southern corridor. And instead of buying the department new vehicles, it has acquired four in the last two months that were used by drug dealers.
"We will be getting a new [Chevrolet] Tahoe for our K-9 unit," Tisone said.
But for the safety of its officers who ride alone to crime scenes and for the training of future police officers, the department wants to form a volunteer reserve corps.
Altier remembered responding to a call last summer in Northgate when he was surrounded by 16 gang members. Standing where four apartments cut off any chance of being seen from Colonial Drive to the south, he immediately called for all cars to respond. When backup from both Liberty and Youngstown arrived, the gang broke up.
"It's about having an extra body in the car," Kovach said.
"It's almost like having an intern," Tisone said of the reserve officers, who would ride along with the full-time policemen.
Volunteers for the reserve officer would pass the police academy, be trained by the department and be commissioned by the state.
"We want to supplement the officers we have, and it would be hardly any cost," Tisone said, adding that the department would pay only for uniforms and equipment.
"When officers first arrive on a serious crime scene, it's nice to have that extra man," said Capt. Ryan Kloss of the Austintown police.
Kloss was an Austintown reserve officer in 1975 before being hired full time two years later, and 31 of the 37 officers employed by the department are products of the reserve corps. But, he said, about nine years ago the township, while under fiscal restraints, stopped replacing officers that left.
"This discouraged a lot of the reserves so they left for other departments," he said.
The township's last six hires were from the department and required up to five months of training even if they were experienced officers.
The reserves are "able to start right away," he said, adding the department is refilling the ranks of its reserve corps.
Liberty Township Trustee Stan Nudell said he was briefed on the Tisone's proposal and would not guarantee a yes vote until after it was in writing, but said, "It looks like a good program."
If trustees approve the proposal, Tisone hopes to have reserve officers working by January. He has worked closely with Buhala, who is the Liberty branch president of Ohio Patrolmen's Benevolent Association, the police union.
"It would definitely be a benefit to the department," said Buhala. "If someone retires we can hire one of the reserve officers. We want to maintain the level of officers we have now and have the reserve officers added to the force."
Tisone and Buhala are in talks with Austintown and other departments that have developed a reserve-corps program.
"What I see in the budget, until we have people leave or until we figure out how to generate more money, there's not going to be any hiring," Tisone said. "I believe in a full-time force. But I think that time dictates now that we look into other areas and other ways of getting the job done."
The department could lose almost a quarter of its $2 million budget if township voters reject a 2-mill police renewal levy on the Nov. 8 ballot It would bring in $463,680 per year for five years beginning in 2012.
"We need [voters] to support the levy," Tisone said. "It's crucial."