Boardman Township Park is scene of Alzheimer's walk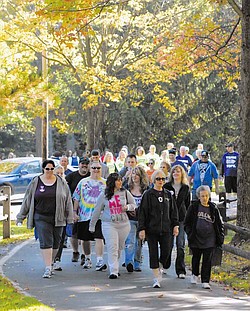 Photo
A group nears the finish line at the annual Alzheimer's Walk at Boardman Township Park. More than 500 people participated in the event Saturday, including those with the disease and their family members, friends and caregivers.

Photo
Johanna Morell Nuzzo, front, and her team cross the finish line together at Saturday's Walk to End Alzheimer's event. The event, which raised more than $35,000, was at Boardman Park.
ALZHEIMER'S DISEASE | Facts
Hundreds of people took part in Saturday's annual Walk to End Alzheimer's gathering in Boardman
Township Park. Some facts and figures regarding the disease:
Alzheimer's disease is a progressive brain disease that slowly destroys memory, cognition and the ability to perform many daily-living tasks. It is not, however, a normal part of aging.
An estimated 5.4 million people in the United States live with this genetic and degenerative disease. That figure could increase to 16 million by 2050.
Last year, about 14.9 million family members and friends provided 17 billion hours of unpaid care to those with Alzheimer's and other types of dementia. Roughly two-thirds of those with a diagnosis are women.
Alzheimer's disease is the sixth-leading cause of death in the U.S., the fifth-leading cause in those 65 and older.
Most people survive an average of four to eight years after receiving a diagnosis, though some live as long as 20 years.
This year, the cost of caring for those with Alzheimer's is expected to be around $183 billion.
Source: Alzheimer's Association of Ohio
By Sean Barron
BOARDMAN
Johanna M. Nuzzo recalls the painful transition that saw her mother, Louise Morell, gradually go from being able to give love and kindness to being prone to angry outbursts.
"I watched my mother slip away. I kept asking myself, 'Where did my mother go?'" Nuzzo said, referring to her mother's having suffered from Alzheimer's disease.
Nuzzo, of Austintown, fought back tears as she described her difficult odyssey to more than 500 people who participated in Saturday's 2011 Walk to End Alzheimer's event in Boardman Township Park.
Walkers included those with the disease and their family members, relatives, friends and caregivers.
The annual walk, sponsored by the Alzheimer's Association's Greater East Ohio Chapter, was to raise money and awareness regarding the irreversible disease, as well as for Alzheimer's care, support and research.
It also called on those with the disease, as well as their loved ones, community leaders and businesses, to be active in the fight against Alzheimer's, organizers said.
The event raised more than $35,000, noted Helen T. Paes, the Greater East Ohio chapter's community- development coordinator.
Nuzzo, who retired after 31 years of teaching in Lorain County and whose mother died Feb. 8, 1999, recalled that her mother's forgetfulness and other symptoms gradually worsened, which also caused Morell to become easily agitated.
Nuzzo, the event's 2011 honoree, told attendees how her mother once called Nuzzo from Nuzzo's Cleveland home, prompting her to drive to Youngstown only to find out that Morell was unable to remember why she had called.
Nuzzo, a Struthers High School graduate, noted that certain misconceptions still surround the disease.
For example, Alzheimer's is more than mere forgetfulness; the degenerative disease usually means the brain no longer is able to tell the body what to do, she continued, adding that her father-in-law also was diagnosed.
"It's emotionally and physically very draining on a family," she said. "It's scary, because you don't know what's coming."
People took advantage of perfect weather to walk individually or on teams such as "Team Sweet Mary," "Team Tofil," "Barry's Bunch" and "Bubu's Bunch." Nuzzo was part of "Team Forget-Me-Nots."
Last month, Dorothy Landon of Austintown lost her mother, Evelyn, of Mount Sterling, Mich., who had suffered from the disease.
"My mother was very religious," said Landon, who was part of "Bubu's Bunch." "She was very involved in her church and an all-around good woman."
The team was named after 72-year-old Luella Deffenbaugh, nicknamed "Bubu," who's spent about five years in a Salem nursing home after having been diagnosed with an early onset of Alzheimer's.
Other members of the team included Deffenbaugh's daughter, Sharon Stambaugh, and Stambaugh's husband, Dave.
Landon said this was her fifth time in the walk and that this year's participation was mainly to remember her mother.
The walk also featured awards, a raffle drawing and activities for children.