Crestview vs. Columbiana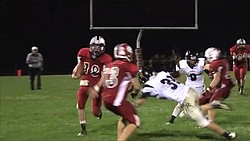 Video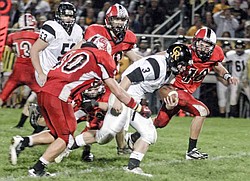 Photo
FOOTBALL - (3) Adam Coppock tries to beat the Columbiana defense led by (40) Brandon Hacker and (10) Austin Barbato Friday night. - Special to The Vindicator/Nick Mays
Team

| Record | Div. | Conf. |
| --- | --- | --- |
| 6/4 | Div. V | Independents |
Team

| Record | Div. | Conf. |
| --- | --- | --- |
| 6/4 | Div. VI | Eastern Ohio Athletic Conference |
By Tom Williams
COLUMBIANA
Adam Coppock's swift legs combined with second-half offensive line dominance to keep the Crestview High football team in the driver's seat for another Inter Tri-County League Tier One title.
Coppock's 60-yard touchdown early in the fourth quarter was followed by a 12-play, 67-yard scoring march that propelled the Rebels to Friday's 30-20 victory over backyard rival Columbiana.
That final drive gobbled six of the game's final eight minutes and was capped by Nick Blower's 17-yard run.
"Man, that was a war," said senior C.J. Collins who sacked Columbiana quarterback Austin Barbato on the Clippers' final play. "I think it's more physical for us because of the rivalry. We're friends with a lot of [Clippers] but when we come out here we mean business."
With three games remaining, the two-time defending champions are in position for another crown. The win should boost the Rebels (6-1, 4-0) in next week's Division V, Region 17 computer ratings. This week, the Clippers(6-1, 3-1) were third and the Rebels sixth.
"Indescribable," is how Collins responded when asked how it felt to be alone atop the standings. "It's nice not having to watch someone else have to lose, to control your own destiny."
Ahead 9-7 at halftime, the Rebels took charge behind the blocking of Collins, Mike Mayer, Tom Rambo, Scott Derflinger, Dustin Gorby and Josh McDade. Coppock finished with 136 yards on 21 carries while Blower had 103 on 15 tries. Coppock also completed 6 of 14 passes for 108 yards.
His first touchdown — a 2 yard run in the third quarter — was answered quickly when Clippers tailback Britton Steiginga scored on a 13-yard run.
Early in the fourth quarter, the Rebels stopped the Clippers on downs at the Crestview 33. Two plays later, Coppock burst through the line for his back-breaking score.
"I've got to give all the credit to the line," Coppock said. "I don't even know if I got touched on that play. That hole was huge, it was unbelievable."
Trailing 23-14, the Clippers weren't finished. Barbato ran for 33 yards and a personal foul had the Clippers in Rebels' territory. On fourth down, Barbato hit fullback Brandon Hacker for a 10-yard gain that set up Hacker's 2-yard score that sliced the Rebels lead to three.
The Rebels then dominated the next six minutes to seal the victory.
"We wanted to eat the clock, slow it down a little bit," Crestview coach Paul Cusick said. "We're used to playing fast offensively, but we wanted to take our time.
"It took us a little bit to get going, but finally our offensive line got pretty physical in the second half," Cusick said.
Barbato completed 16 of 29 passes for 231 yards. He also rushed for 72 yards on 25 carries.
The Clippers scored first on their initial possession after a personal foul against the Rebels on a punt return. Barbato's third-down scramble for 19 yards set the stage for Hacker's 1-yard score.
"This is such a great rivalry and such a great game," Columbiana coach Bob Spaite said. "It's what small high school football is all about.
"They made it tough," Spaite said. "Give them all the credit — they keep hammering away with the same play and you can't make one mistake. They are good backs."
A shanked punt set up the Rebels' first score. Coppock hit Collin Gilbert with a screen toss and he raced 23 yards for the score. Zack Moore's 30-yard field goal gave Crestview a 9-7 edge at halftime.