The Vindicator ( Youngstown)

Photo
Joy DeCapita, substitute aide for Leonard Kirtz School, hugs Emani Martinez, 11, as they dance to Lady Gaga music during the school's Harvest Carnival on Friday. More than 150 students and clients from the school and Bev Road and Meshel MASCO workshops attended the event.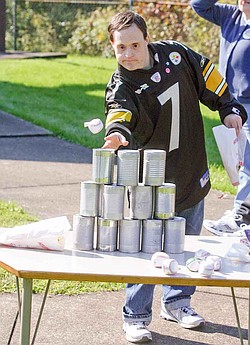 Photo
George Froble, 45, of Youngstown knocks over cans during the Harvest Carnival.
By Christine Keeling
ckeeling@vindy.com
Austintown
More than 150 students and clients from Leonard Kirtz School and the Mahoning County Board of Development Disabilities' workshops experienced a haunted hall, Halloween dance and midway-style games.
The occasion Friday was a Harvest Carnival at the Austintown school.
"This is an A+," said George Froble, 45, of Youngstown, about the event.
Froble was excited to show off his throwing arm on a variety of carnival games outside the school, including landing a ring in a circle, throwing a football through a hole and popping balloons with darts.
"They all get a prize," said George Gabriel, event planner and workshop director of Meshel MASCO, one of the workshops. "In fact, several prizes."
Many participants were mingling on the mock midway, enjoying their popcorn and cotton candy.
Inside the school, music and monsters made for a fun time.
Hanging ghosts and glowing goblins greeted those brave enough to venture down a long, darkened, haunted hallway. Pumpkins lined the way, and leaves crackled underfoot.
"We added the leaves" to the floor "so children who are blind can have a sensory experience," said Kim Jeswald, event planner and swim instructor for the school.
Daniel Fazzini, 17, of Boardman was just one of many who danced the afternoon away in the school's cafeteria. He wore a big smile, and his wheelchair swayed to the beat of a Michael Jackson song.
His teacher, Laura Nuppnau, said Fazzini is a typical teenager who likes music and being social.
"It's for the kids," said Gabriel. "To give them a good Halloween."
The event was a collaboration between the school and Meshel workshop and has been in the works for years. It is the kickoff for a month of Harvest-themed activities for Leonard Kirtz students. They will continue to add to the haunted hallway and carve pumpkins throughout October.
Gabriel hopes the fall carnival will expand and be open to the public.
Community members are invited to a Halloween dance and dinner from 6 to 8:30 p.m.
Oct. 28 at 160 Marwood Circle in Boardman. The cost is $3.