Flooding in yard, home irks couple in Canfield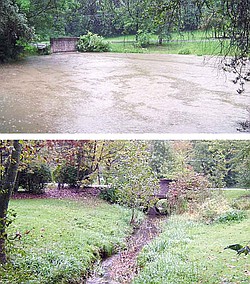 Photo
Normally the portion of Sawmill Creek that runs through Steve and Sarah Easton's property flows smoothly (bottom), but when it rains heavily, the banks of the creek expand (top) and floodsthe lower level of their home on Glenview Avenue.
By Christine Keeling
Canfield
When it rains hard, it pours water into one Canfield family's home.
Steve Easton didn't know he would be battling up to 22 inches of storm- and sanitary-sewer water in the lower level of his Glenview Avenue home when he purchased it in 1967. But as the years passed and development boomed in the city, he and his wife, Sarah, watched the water of Sawmill Creek gain speed and volume and fill their family and game room five times.
The Eastons have lost appliances, carpeting and now patience as they look to the city for a solution.
"It's 100 feet of raging torrents that is 6 feet above its normal flow," said Steve, about the creek that runs through his backyard, when it rains heavily.
The family thought the first flood, in 1992, was a 100-year event. But their home flooded again twice in 2004, in 2009 and last May 14.
"We bought a washer and dryer in February, and in May" the flood "wiped them out," said Steve.
The Eastons had to buy insurance from the Federal Emergency Management Agency with a $1,000 deductible and watch the Doppler radar very closely for shades of red and yellow.
"When it happens two or three times a year it's a lot" of money, said Sarah. "But it's not about the money, it's the inconvenience."
Their carpet has to be ripped up and dried, the floor underneath scrubbed, ruined items replaced or thrown away.
The process, they said, takes three months.
In 2004, the city responded to the problem by clearing portions of the creek and removing debris from a neighbor's culvert.
It made the water come faster, said the Eastons.
When they moved into the house, the area west of C.H. Campbell Elementary School was farmland that allowed rain water to soak in, they said. Neighborhood development and more paved surfaces, they said, are adding to the problem.
They believe the solution is for the city to build a detention pond somewhere upstream.
The creek originates on the west side of the Mill Creek Metroparks Bikeway and Palmyra Road.
"I am aware of their flooding," said Joe Warino, the city's manager.
"It probably takes over 40 percent of their property." He said the problem is two-pronged, yet interrelated.
In heavy rain, an increase in water flow is being seen in the sanitary-sewer system, he said, although it should be a closed system. Sanitary and storm waters can combine and create a backup. He also agrees the creek's water flow needs to be slowed.
The city hired URS Corp. to help address part of the problem. The Akron company is performing smoke tests and using cameras to pinpoint where the sanitary and storm water systems are combining.
The city also looked at creating a detention pond on one of the large parcels along the creek's route, but it hasn't been able to get permission from those land owners, he said.
"We've set up private appointments with people," Warino said. "But, it's hard pressed to have people upstream comply when it's not affecting them."
He also spoke to the school board, in regard to its willingness to put a detention pond on the high school's property.
Dante Zambrini, schools superintendent, said he was not aware of any problem until Steve Easton appeared before the board last month. He has since spoken with Warino.
The district will work to be part of any solution, if its found to be at fault, Zambrini said. But he said he thought the flooding predates a paving project at the high school.
"The city needs to study it," said Zambrini.
He said the middle school gets flooded too, because the storm system is too full.
Warino said he didn't think the school was the sole source of the problem, because another school and a number of commercial businesses also contribute water to the stream.
The city has taken a proactive approach to flooding issues for many years, he said.
More than $5 million was spent putting in a large pipe that is capable of holding water underground in the northeast quadrant of the city.
The effort alleviated flooding for 25 to 30 homes, Warino said.
He projects that a detention pond for Sawmill Creek will cost $1.5 million, but will slow the creek and help homes on Blueberry Hill, Sawmill Run, Sleepy Hollow and Hickory Hollow drives, as well as Camelot Court.
"I can count on one hand how many flooding homes are left," said Warino.
"But, they are the last ones because they don't have an easy fix."
Easton said he plans to continue to attend council meetings, so no one will forget about their problem.