Toussaint excels for Michigan as touches increase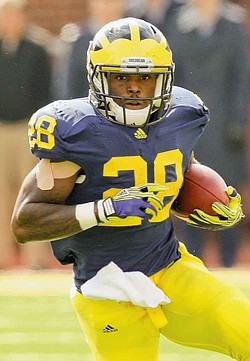 AP

Photo
Liberty High graduate Fitzgerald Toussaint, a redshirt sophomore, has shaken off some shoulder injuries to become the secondary running threat in the Michigan Wolverines' off ense this season.
By Joe Scalzo
When former Liberty running back Fitzgerald Toussaint came to Michigan three years ago, he had to learn a much thicker playbook as well as the finer points of pass blocking, diagnosing a defense, reading blocks and running routes.
But he didn't need to learn anything about toughness.
"Coming from the Valley, you're going to be a tough guy," said Toussaint, who spoke by phone from Ann Arbor this week. "That's the thing that stood out to me when I played."
Toussaint, a redshirt sophomore, has shaken off some shoulder injuries to become the secondary running threat in the Wolverines' offense this season. He's coming off the best game of his career, an 11-carry, 108-yard, one-touchdown performance in last week's 58-0 win over Minnesota.
"We have great coaches and I'm surrounded with players who have a lot of ability and I'm running behind a great line," Toussaint said. "I'm just going out there and trying to do my job and do whatever the team needs me to do."
He has 311 yards rushing and four TDs this season for the Wolverines, who have started 5-0 for the second straight season. They'll play their first road game this weekend when they travel to Northwestern.
"A lot of people from back home have been congratulating me, telling me to keep up the good work," he said. "It gives me motivation to go out there and keep working."
When asked for the key to the team's success this fall, Toussaint said, "I would have to say it's days like today. Tuesdays are a big work day here and we just try to focus on doing things right on the practice field and throughout the week."
Toussaint is a surprisingly powerful runner but he's best known for his speed; he won an indoor state title in the 60-meter dash in high school. Still, even he admits he can't compete with quarterback Denard Robinson.
"Denard has got blazing speed," he said. "It's amazing."
After redshirting two years ago, Toussaint appeared in five games last fall as a reserve running back and kick returner, missing several games with a shoulder injury that also kept him out once this season.
When the team lost six of its last eight games, the school fired coach Rich Rodriguez and hired Brady Hoke, prompting several players to transfer, including safety Ray Vinopal (Mooney).
Vinopal, who went to Pitt after appearing in all 13 games last fall as a freshman, is one of several area natives whose Michigan careers didn't pan out. That list also includes Warren Harding High graduates Davion Rogers (who failed to qualify academically and is now at YSU) and D.J. Williamson (who left the team in the spring) and Liberty High graduate Antonio Kinard (who failed to qualify academically for both Michigan last year and the University of Miami this fall).
Another Liberty graduate, redshirt sophomore linebacker Isaiah Bell, stayed on but hasn't played a down since high school.
When asked if he considered leaving, Toussaint said, "No, I came to Michigan for a reason, to be part of a winner."
After a couple of frustrating years, it looks like he — and the Wolverines — are on the right track.
More like this from vindy.com