Police back on the streets of downtown Youngstown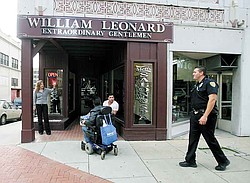 Photo
Lisa Reali, owner of William Leonard's barber and beauty shop, waves at patrolman Michael Cox as he walks his downtown beat. The Youngstown Police Department began walking the daytime downtown beat last week.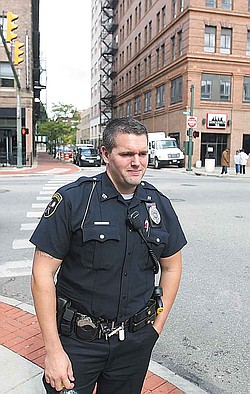 Photo
Youngstown patrolman Michael Cox said most people are glad to see uniformed officers walking the streets of downtown during the day.
By John W. Goodwin Jr. and Ashley Luthern
news@vindy.com
YOUNGSTOWN
City patrolman Michael Cox is walking the street for the first time in years — and most people downtown are happy to see him.
Cox, a 12-year department veteran, is part of the new daytime downtown beat, walking the streets and chatting with business owners.
"People are excited to see us," he said.
One of those people is Lisa Reali, owner of William Leonard's barber and beauty shop on the corner of
Federal and Phelps Streets.
During the three years she's had the shop downtown, she said she's had to contend with passers-by shouting insults, open container violations and public urination.
"The police do have their hands full" with other parts of the city, Reali said. "We felt bad reporting minor issues."
Now that officers such as Cox are available during the day, Reali said those minor problems have dwindled.
"We need [officers] to be active," she said, adding "I think the program's amazing."
A uniformed Youngstown police officer will be downtown between 10 a.m. to 8 p.m., said Police Chief Rod Foley.
"There is a lot of foot-traffic down here, and we want to make sure people feel safe out there. People need to feel safe walking to their cars and being down here," he said.
"Downtown is notoriously safe, but the perception is that if you are in Youngstown it is unsafe."
Foley said additional patrol units are already stationed downtown in the evenings and on weekends so the foot patrol officer is not needed at those times.
He also said the officer working the downtown foot patrol is required to do more than just walk the streets. The officer must make contact with at least one business owner or downtown patron every hour.
Regular foot patrols, the chief said, have always been something the department has tried to use, but it has been cost prohibitive because officers assigned to foot patrol were working on overtime.
"It is hard to staff this. The previous chief [Jimmy Hughes] did it before but with the shortage in staff, it was costing us overtime. It was costing about $1,000 a day," he said.
Foley said he has eliminated the use of overtime to fund the foot patrol by offering compensatory time to work the foot patrol.
He said officers working the detail are offered comp time, and he can control when that time is used.
The department, contractually, is only required to
allow one person comp time per shift and only if is not a hardship on staffing.
Foley said there is no shortage of officers signing up to work the downtown foot patrol and that, in conjunction with downtown patrol units, helps decrease response times.