Phantoms counting on goalies
GAME TIME
Matchup: Youngstown Phantoms (0-1-0) vs. Chicago Steel (1-0-0).
Faceoff : Friday, 8:30 p.m., at Edge Ice Arena, Bensenville, Ill.
Internet: ushl.fasthockey.com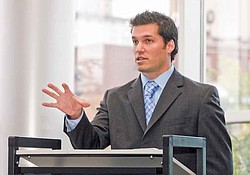 Photo
Youngstown Phantoms coach Anthony Noreen speaks at Media Day at the Covelli Centre in Youngstown on Tuesday.
By Tom Williams
YOUNGSTOWN
The biggest change for the USHL this season was scored by the schedule-maker.
Youngstown Phantoms coach Anthony Noreen said the regular season has been reduced by a week and the opening weekends have fewer games.
That means there will be more three-game weekends for the third-year franchise.
"They shortened the season by one week and they also made the first two weekends of the season [have] just single games because a lot of teams are fighting high school football," said the Phantoms' first-year coach at Tuesday's Media Day at the Covelli Centre. "They tried to push the season back as far as possible."
That means the Phantoms will be very busy and goaltender health, a problem that plagued last season's Phantoms, will be crucial.
Fortunately, Matthew O'Connor has healed from two injuries he suffered last winter and is ready for his second USHL season before moving on to Boston University. In December, O'Connor suffered a hip flexor. Then in February, he returned to action only to damage knee ligaments in a practice collision.
"To sit in the press box for the last [third] of the season was definitely a tough one for me," said O'Connor, whose rehab did not include surgery. "I'm really excited to be back and get rolling and embrace every time I step on the ice. You get a whole new perspective after sitting out."
Last fall, then-Phantoms coach Curtis Carr started the 6-foot-5 goaltender for all but one game into mid-December. Greg Lewis filled in when O'Connor was sidelined and went 4-2-2 before the Phantoms added Jordan Tibbett to the roster in January. Lewis was released when O'Connor returned.
O'Connor's second injury forced the Phantoms (23-29-7, 53 points) to start Tibbett every game down the stretch. Sean Romeo was the emergency backup who could only play if Tibbett was injured. The Phantoms missed the playoffs by two points.
In August, Noreen was promoted to head coach after Carr accepted a coaching position with Merrimack College.
Noreen said the busy schedule means Romeo will see plenty of action this fall.
"I'm not a big believer in wearing out a goaltender," Noreen said. "I think we're going to go with [the guy who] gives us the best chance to win. If one night it's Sean and the other night it's Matt, that's completely fine with me."
In addition to O'Connor and Romeo, the Phantoms have 10 other players returning. The forwards are Ryan Belonger, Mike Ambrosia, Dylan Margonari, Justin Stevens, Alex Gacek, Stephen Collins and JT Stenglein. The veteran defensemen are Chris Bradley, Jordan Young and Kevin Liss.
"The most fun thing about a season in a team sport is not the first game of the year and it's not the last, it's not where you end up — it's the journey along the way," Noreen said. "It could be a Friday night win at the Covelli Centre when we come from behind or a Sunday afternoon shootout win.
"I know we have a great group of young men. I've seen the dedication in these guys, the commitment, their cohesiveness as a group," Noreen said. "Because of that, I know it's going to be a great journey."
Noreen has not named a team captain and the alternates.
"I think we're still waiting for some team leaders to step up," Belonger said.