Wellington to retire at end of term next year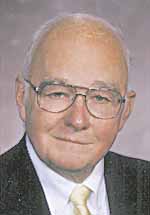 Photo
Mahoning County Sheriff Randall Wellington
Sheriff Randall A. Wellington
At the end of his third term, Randall A. Wellington, sheriff since 1999, will not seek re-election. Some career highlights:
1957: Wellington, 23, is sworn in as a cadet Youngstown police patrolman. He is promoted to sergeant in 1966 and the head of the vice squad in 1969. Promoted to captain in 1973.
1983: Wellington named city police chief.
1996: Defeated by Phil Chance in the November general election for Mahoning County sheriff. Wellington ran as an independent.
1999: Wins vote to replace Chance as sheriff after Chance resigned after being convicted of racketeering crimes.
2000: Wellington is elected to his first full term as sheriff. He is re-elected in 2004 and 2008.
Monday: Wellington announces he will not seek a fourth full term.
By Denise Dick
Youngstown
After more than 50 years in law enforcement, Mahoning County Sheriff Randall A. Wellington is opting to hang up his badge at the end of his term.
Wellington, first elected in 2000, informed his staff of his decision Monday afternoon. Before his election, he served 41 years in the city police department, including 12 years as chief.
"Taking into account the 12 years I have served as sheriff and my many years with the Youngstown Police Department, I have come to the decision that it is time to 'hang up the badge,'" Wellington, 78, said in a news release.
Re-elected in 2004 and in 2008, the sheriff's current term expires at the end of 2012.
As no one has announced plans to run for the office, Wellington said he's not backing anyone at this time.
"I have an outstanding staff here," he said. "They're very professional. I'm sure that they will guide the new sheriff in the right direction and help out a lot."
What does he plan to do upon leaving office?
"Absolutely nothing," Wellington said.
He may do some traveling but plans to remain in the area.
"I was born and raised here," the sheriff said. "I'm not leaving now."
He listed development of the department's senior citizens unit and the day-reporting program as things he accomplished of which he's particularly proud.
The day-reporting program, initiated in 2006, enables misdemeanor offenders to serve time doing community service rather than being incarcerated. Wellington estimated that program has saved the county about $1 million since its inception.
He also pointed to his negotiating of a contract to provide police services in Canfield Township and contracts with both the federal marshal's service and the Immigration and Customs Enforcement offices as accomplishments.
Though the last couple of years have seen cuts in county budgets including that of the sheriff, the longtime lawman says the county's budget woes weren't a factor in his decision not to seek a fourth full term.
Wellington, a Democrat, first ran for the office as an independent candidate in the November 1996 general election and lost to Phil Chance. Chance resigned in July 1999 after being convicted of racketeering crimes, and Wellington was appointed to fill the position.