Acclaimed Canfield speech team aims for No. 1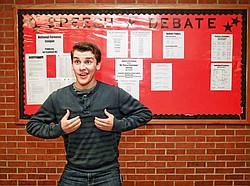 Photo
Junior Nathan Pecchia shows off one of the poses he uses while competing in duo interpretation for the Canfield High School speech team. He finished second at state competition with his partner, Rosie Jo Neddy.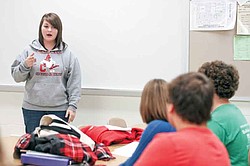 Photo
Canfield High School senior Kaylee Kapalko gives an impromptu speech Monday during the team's after-school practice.
By Christine Keeling
Canfield
The Canfield High School Speech and Debate team is ranked 78th out of more than 3,000 schools nationwide by the National Forensic League Speech and Debate Honor Society.
The honor is based on student participation and achievement in speech and debate activities.
"It was exciting to get that ranking," said Jeremy Hamilton, the team's head coach and math teacher at the school. "To think it's nationwide, it's really cool."
He said he tries to build a climate of success and get kids enthusiastic about the team.
Some of the 90 team members spent Monday after school practicing for the upcoming season.
Senior Kaylee Kapalko said when she entered high school she was looked at by other kids as a "geek," but four years of impromptu speaking helped her build confidence.
"You need to think on your feet and look like you know what you're doing," said Kapalko. "It makes me who I am, and now I'm OK with myself."
She said she learned public- speaking skills and built amazing relationships with team members.
"Speech is a sport," she said, "because I have to wear heels on Saturday" for competition.
Last year, the team broke some of its own records. It sent 36 students to state competition, where 12 competed in the final round and secured a second-place finish.
Hamilton said the team has improved each of the years he's coached it. The first year the team finished 12th, then fifth, third and second at the state competition.
"We are aiming for that state championship," said Hamilton. "We're looking to improve by one notch."
Nathan Pecchia said he loves categories such as duo interpretation because he's involved in theater. He and his partner, Rosie Jo Neddy, finished second at state and in the top 30 at nationals in Dallas, Texas, this summer.
"There's a certain confidence in a speech kid, a different charisma," he said, moments after demonstrating some of the crazy poses and faces he uses during his cutting. "It helps you build social skills."
Hamilton said he's going to continue to strive to get talented kids on the team and be ready to compete.
"You prepare and practice, and you see how it goes," he said.
The students usually put in 10 to 15 hours a week of practice during the regular season. Their first match is Oct. 29 at South Range.