Indians' offense overcomes Tigers' D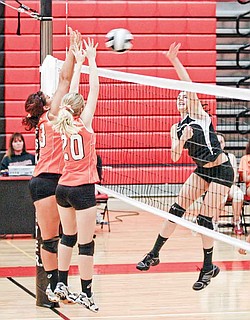 Photo
Girard player Bryanna Jay, 19, hits the ball as Springfield's senior Brooke Schrieber, left, and sophomore Morgan Buchenic go up for the block. Girard rallied to win to the volleyball match.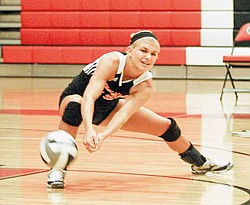 Photo
Springfi eld senior Sarah Sauerwein digs the ball during the Tigers' match at Girard High on Monday.
By Matthew Peaslee
Girard
Taylor Bell was nervous. Her Girard team was down two games to none and the freshman was worried. Normally, uneasy feelings would happen to her as she watches from the bench.
Not on Monday.
Bell got the call to start the game at middle defender as two regular starters were out due to injury. It was not only her first start, it was her first time starting at one of the most relied upon positions on the court.
"It was a little nerve-wracking at first," Bell said. "We tried a couple of different things, but it felt good that coach had confidence in me going in."
And by totaling eight blocks, Girard coach Phil Walters had confidence in her after the match, too.
"She did a great job," he said. "She took on the role playing middle and she was very consistent for her first time out there."
The nerves weren't felt just by Bell, though. The entire team knew they were in a rut and had to dig out of the hole they built for themselves. Heading into the third game, Walters gave them a wake-up call.
"When you lose a couple of games like that, I level with them," he said. "I tell them that they're not playing well. They have to understand that it's on our side. We're only as good as how we play."
Then, the offense exploded.
Girard jumped out to a 5-1 lead, with an ace from Morgan Walters to set the tempo. With momentum on their side, the Indians won 25-15. Another early advantage helped them win game four.
After a fierce kill from Bryanna Jay opened up the fifth set, Girard completed the comeback with a 15-10 victory. Jay finished with 26 kills, while Walters had nine aces.
Springfield coach Bill Knight was at a loss.
"We played perfect for the first two games," Knight said. "If I knew how to keep it like that I would definitely change it."
Knight's defensive minded Tigers (11-5) earned their points in the opening two games and battled throughout the final three. Brooke Schrieber had 19 kills and Jessica Evan had 36 assists playing the net.
The entire match was a wake-up call for his side, as well.
"We're looking at this as something to look forward to because our goal is to win the [Inter Tri-County League Tier One]," Knight said. "Girard was a great test for us."
Same goes for Walters and the Indians (15-3).
"That's why it's nice to play a game like this, we weren't going to get a kill every time," he said. "They really had to work to score tonight and our offense stepped up. They were hitting through the blocks."
As for Bell, getting critical playing time in a crucial match was the best confidence booster.
"We were down, but we knew we wanted to win," she said. "We just had to move our feet more and rely on each other."