Fate of Internet café in Hubbard rides on legal give-and-take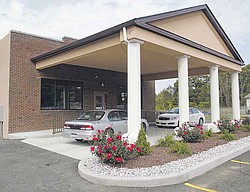 Photo
Silver Star Internet café in Hubbard Township has kept its doors shut since late July because of a township zoning resolution passed in May to regulate Internet cafés. Its fate is unknown as lawyers representing the cafe and the township are looking over the resolution's definition of an Internet café.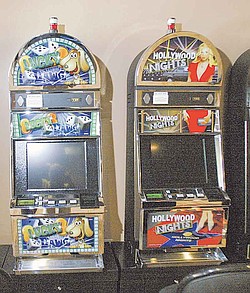 Photo
A sweepstakes machines sits idle at Silver Star Internet café while its owner Bill Pilorusso resolves a dispute with Hubbard Township over regulation of Internet cafés.
Hubbard
Along the stretch of U.S. Route 62 that runs through the southwest side of Hubbard Township sits a newly renovated Spanish-architectural style building.
Inside, seven sweepstakes computers sit idle against a wall. On the floor lies the banner for the Silver Star Internet café grand opening.
Awaiting an opinion from the township, the doors to the café remain closed as lawyers representing both the owner, Bill Pilorusso, and the township dissect the language used in a newly implemented zoning regulation defining Internet cafés.
"The whole purpose was to renovate the building," said Pilorusso, the owner of the property who planned on its opening in late July with as many as 40 sweepstakes computers.
"We wanted to make a nice facility — something for people to do."
And, Pilorusso said he wanted to add six employees to help run the café that would include a buffet and a lounge area.
After reading in The Vindicator about the growing number of Internet sweepstakes cafés in Mahoning County, the township zoning administrator John Pieton brought the issue to the zoning commission in February.
"I saw Mahoning County's having a problem," he said. "I said, 'Hey, establish regulations for Internet caf s because we have none now.'"
In May, after three public meetings and notices in newspapers, the zoning commission said Internet caf s must be built in industrial zones and at least 1,000 feet from residential areas, churches and playgrounds. This left Pilorusso's café in violation because it was zoned commercial and within 1,000 feet of residents.
For decades, the property at 5801 Youngstown Hubbard Road was a boarded-up, closed-down bar named the Silver Star.
In late 2010, Pilorusso wanted to turn the property into a restaurant and was granted a permit for that purpose. He invested a "substantial amount" of money, adding new carpet, a canopy with white pillars over the entrance and painting all the walls. But at some point during the renovation, Pilorusso said the Ohio Environmental Protection Agency required he spend $50,000 on a waste-water treatment system to be placed in the back of the cafe.
The cost of the system forced him to change plans. Unable to afford a full kitchen, he converted the property to an Internet café where, he said, there is no gambling. Instead he referred to it as sweepstakes, equating the process to winning a prize at a restaurant just for buying food.
"You walk into McDonald's, buy a hamburger, and you enter to win $1 million," he said.
He explained that a customer would walk in, purchase phone time and play games on the computer. But upon buying phone time, customers have a chance to win money.
"Their winning is not determined on whether they play or not," he said.
In late July, Pilorusso was ready for the opening and installed a flashing LED sign by the road, violating an already existing zoning law. According to public records, neighbors called township trustee Frederick Hanley about the flashing sign. He called Pieton who went out to Pilorusso's business to check on the sign on July 28.
"As we were talking to him, we saw what his sign read," Pieton said.
It flashed "Internet Caf ," not "Restaurant."
He informed Pilorusso of the zoning change, but Pilorusso said Police Chief Todd Coonce said the machines were fine. The records state Coonce confirmed talking to the owner but said he was referencing Ohio law on gambling, not the zoning issue.
On Aug. 5, Pilorusso submitted an official change of use application to Internet café, which was denied. Six days later, Pilorusso applied for variance on both the Internet café and the flashing sign.
At a Sept. 8 hearing, Pilorusso argued to the board of zoning appeals that the zoning law created hardship to operate a successful business.
"I had all these people at the hearing that supported me," Pilorusso said. "Not one stood up and was against it. If there were, I could see why they would deny it."
But Pieton, who reviewed the attendance list from that night, said 11 of the 27 attendees weren't from Hubbard Township.
The next day, the board approved variance on Pilorusso's sign providing it is static for 30 seconds at a time but rejected the variance to operate an Internet café.
The board wrote that the zoning law "does not create a hardship for the owner to operate a successful business other than an Internet café."
"His problem is he doesn't get approval or understand what the rule is," Pieton said. "He just goes in does what he wants and spends all the money and says that's his hardship. Now, it's a shame that it happened."
Currently, the lawyers from both sides are in talks and asked both sides to decline additional interviews.
Mark Finamore, the attorney for the township, said his office is examining the definition of Internet café as written in the zoning commission's resolution and comparing it to how Pilorusso's cafe operates.
As Pilorusso waits, the future of his Internet café is unknown.
"There's a lot of things he can do out there," Pieton said. "He's got a beautiful facility out there. They're just concerned about the Internet operations."