PHOTOS and story
Bass Player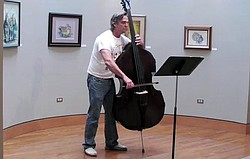 Video
A Youngstown musician finds a connection between art and music while performing at a local gallery.
YOUNGSTOWN
Music and visual art are always a good combination, and local bassist Dan Kalosky has found just the spot to merge the two.
On most Wednesdays, Kalosky can be found playing classical music on the upright bass in the Weller Gallery at the Davis Center in Mill Creek Park. He is one of several area musicians who perform informal concerts in the Weller Gallery.
Sweet, low, bass melodies reverberate off the walls of the gallery where the work of local artists is displayed. Kalosky, who has spent most of his life playing music, finds the acoustics and ambience of the room to his liking.
He says visitors to the gallery enjoy the music and recalls a group of visiting school children crowding around his bass for a closer look and listen.
The instrument Kalosky plays also has a story.
"It was about a half-hour from being kindling wood" said Kalosky. A friend in the demolition business found the instrument in the attic of a soon to be demolished house in the Idora neighborhood of Youngstown and offered it to Kalosky.
Upon checking out the badly neglected instrument, Kalosky discovered it was an upright bass made in France in 1856. After spending a year and a considerable sum of money restoring the bass, Kalosky now plays it while performing with several area ensembles.
The connection between art and music is clear to Kalosky who says: "Playing and creating music is just like an artist painting a picture. You're creating something from your heart and your soul."