LaBrae scores quick and beats Struthers 27-0
LaBrae vs. Struthers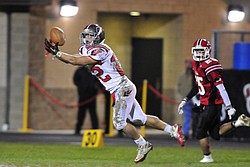 Gallery
Team

| Record | Div. | Conf. |
| --- | --- | --- |
| 7/4 | Div. IV | All-American Conference White Tier |
Team

| Record | Div. | Conf. |
| --- | --- | --- |
| 3/5 | Div. V | All-American Conference Blue Tier |
By Doug Chapin
STRUTHERS
LaBrae High scored on its first two possessions — a total of five plays — and rolled to a 27-0 shutout of Struthers Friday night at Laddie J. Fedor Field.
Coming off a close emotional victory last week over Campbell Memorial, the Vikings (5-1) jumped on Struthers (4-2) from the start. Nate Middleton intercepted the Wildcats' Tommy Kimbrough and returned the ball 29 yards to the 2. Running back Matt Szorady scored from there two plays later with 9:49 on the clock.
After a Struthers punt, Szorady took a third-down swing pass from Peyton Aldridge and rambled 64 yards for the second LaBrae touchdown, this one coming at the 5:41 mark of the third quarter.
"At our place last year we were embarrassed by Struthers, they beat us 16-0 and we didn't play very well," LaBrae coach Bill Bohren said. "Our kids know that down the road this puts us in a great spot for the playoffs. Struthers has four wins and we're already sitting sixth [in Division IV, Region 13], so this win puts us in good shape. Our kids prepared well and our kids play hard."
The Wildcats had won three in a row but came out flat.
"We never got started, I don't know where our minds were," Struthers coach Mark Asher said. "They [LaBrae] did a nice job. Early turnovers really hurt us and we just never got going. We never got out of the blocks."
LaBrae added a second-quarter touchdown on a 33-yard scoring strike from Aldridge to Szorady on a wheel route.
The Vikings put the game away with a scoring drive to open the second half. Carl Brown turned a completion on a crossing pattern into a 44-yard gain to the Struthers 25. Then he carried four times in a row, scoring from 4 yards out.
"Offensively, our tailback, Szorady, is a great football player and you balance it out with Aldridge being able to throw the ball," Bohren said. "We've got Matt gaining his yards tonight and then our backup tailback, Carl Brown, can run too."
Aldridge finished with 179 passing yards on a 7-for-12 performance. Szorady carried 20 times for 82 yards.
"The Aldridge kid has great potential and each game he gets better," Bohren said. "Last week he threw five times and he's happy, this week he probably threw 20 times and he's happy."
Struthers switched to sophomore quarterback Gary Muntean late in the first half. He finished with a 9-for-14 performance for 89 yards.
"Gary's a pretty good quarterback," Asher said. "He throws the ball really well and for coming in like that he did pretty well. He threw the ball decent, he came out, scrambled and made some plays. I was happy with his performance."