Canfield defeats East 20-12
Youngstown East vs. Canfield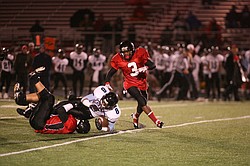 Gallery
Team

| Record | Div. | Conf. |
| --- | --- | --- |
| 12/1 | Div. III | All-American Conference Red Tier |
Team

| Record | Div. | Conf. |
| --- | --- | --- |
| 1/9 | Div. II | All-American Conference Red Tier |
By John Bassetti
CANFIELD
After beating East in fairly convincing fashion in three of the last four meetings, Canfield didn't have it easy this time.
Thanks to senior Mike Ross' fumble recovery that set up Bryce Jackson's early touchdown, the Cardinals (5-1) were able to escape with a 20-12 win Friday night.
"That's a good football team," Canfield coach Mike Pavlansky said almost astonishingly. "Their defense is really good," he said of East's 77.8 rushing yards per game prior to Friday.
In what turned out to be a ground-based game because of the rain and wind, Jordan Italiano and Ben Angelo also scored for Canfield, which gained 187 yards to bump up East's rushing yards-per-game to 96.
"I was "on" the ball a little more because our defensive line had good pursuit and it seemed like he [East player] just lost the ball, which allowed me to come underneath it free [untouched] and get the ball," Ross said of his recovery while playing cornerback.
"Michael's done a great job all year long and tonight he made some plays for us," Pavlansky said. "We've caused more turnovers this year and won the turnover battle in every game I think and tonight was no exception. It certainly puts our offense in great field position."
Although the son of former Canfield head coach Tony Ross had the game's biggest individual moment, it lacked big plays, otherwise.
After Jackson's TD and John Dellick's PAT, East (2-4) caught up to Canfield's quick 7-0 lead to pull within 7-6 when quarterback Rayshawn Johnson scored from 1 yard out near the first quarter's end, but the Panthers missed the 2-point conversion attempt.
One more touchdown and a reliable extra-point kicker and the Panthers would have won.
"I think we've thrown out the idea of an attempted extra point," East coach Brian Shaner said of the staff's decision. "We're just not good at it and our two-point conversion wasn't very good tonight. We'll continue to work on it and get better."
Following East's second and final score from 2 yards out with 5:02 left by running back George Leflore, the Panthers missed another conversion pass.
East was threatening from Canfield's 49-yard line when the game ended.
Pavlansky credited veteran linemen Conner Hoezel, Brian Benson and Jimmy Rousher; senior Tylor Rhoads, a two-year player, and guard Alec Buchenic and Mark Blanco, both first-year linemen.
"We've got a bunch of guys in the backfield who use their ability to run the football, but our line is getting people off the ball."
Shaner expounded on his view of the eight-point margin of victory: "Three personal fouls, a fumble to give them the first touchdown and a fake punt that we didn't call was the difference in the game."
Although lined up to punt on a 4th-and-2 from Canfield's 40 late in the third quarter, the Panthers tried to run.
"I guess the players thought they'd do a little better than us on that one," Shaner said of the miscommunication.
"We were going to try to get them deep and the fake went in. I don't know if they got a false signal or how it was called on the field, but it cost us. It cost us field position, it cost us a touchdown. But it was a hard-fought game and my hat's off to Canfield because they did enough to win."