Dobbins tailgate displays Poland pride

Photo
Neighbors | Sarah Foor .Brandy Maurer (left) helped her son, Carson (right), apply a Poland Pride temporary tattoo on Sept. 9.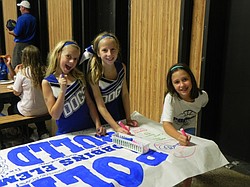 Photo
Neighbors | Sarah Foor .Dobbins students Julia Pitlik (left), Lauren Melillo, and Skyler Huda signed their best words of encouragement on a Dobbins banner for the Bulldog varsity football team.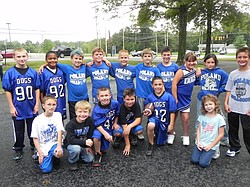 Photo
Neighbors | Sarah Foor .A group of Dobbins students showed off their Poland pride during their school's football tailgate party on Sept. 9. .
By SARAH FOOR
Students, parents, and staff of Dobbins Elementary gathered on Sept. 9 to show off their best Bulldog pride.
Between the bright decorations and the spirit wear worn by guests, the school's all-purpose room was quickly awash in royal blue for the Dobbins annual tailgate party. Each elementary school in the Poland district celebrates the Bulldogs with a tailgate and Dobbins celebrated during Poland Seminary High School's first home game against Marlington.
The event, hosted by the Dobbins PTO, offered a chance to spread spirit and community among Dobbins students and families.
"Our tailgate is a long-time PTO tradition. It's a great way for the elementary schools in our district to get involved and support our teams," shared PTO representative Jenni Shoemaker.
Guests were provided a free dinner and dessert, 50/50 raffle, and discounted tickets to the football game. Bulldog boosters applied temporary spirit tattoos and signed banners of encouragement to the high school team.
Dobbins principal Cheryl Borovitcky was on hand to welcome all of the Dobbins families.
"It's a great day. Our tailgate is a lot of fun and definitely shows our unique Dobbins school spirit," she shared.
More like this from vindy.com