Mineral Ridge scores late to beat South Range
South Range vs. Mineral Ridge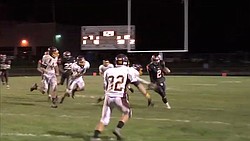 Video
Team

| Record | Div. | Conf. |
| --- | --- | --- |
| 6/4 | Div. VII | Mahoning Valley Athletic Conference |
Team

| Record | Div. | Conf. |
| --- | --- | --- |
| 13/1 | Div. V | Independents |
By JIm Flick
MINERAL RIDGE
In a game that featured long runs and little passing, Friday night's matchup of South Range and Mineral Ridge ended unexpectedly.
Rams quarterback Jonathan Baker tossed an 18-yard touchdown pass to junior Casey Porter with only 1:41 left in the game to give the Rams (3-3, 2-1 Inter Tri-County League) a 21-18 come-from-behind victory over the Raiders (2-4, 1-2).
The pass was unexpected because it was Baker's only completion of the night, and capped a 15-play, 91-yard drive.
The Rams trailed 18-14 when they stopped the Raiders on a fourth-down play deep in their own territory.
Before Baker's touchdown pass, strong running attacks by both teams dominated the matchup.
Mineral Ridge's Devine Redding, a sophomore, gained 190 yards on 21 carries, including a 40-yard dash.
Porter, a junior, picked up 116 yards on 21 carries, including runs of 13 and 15 yards.
But the game's leading rusher was South Range's Alex Dickey, a senior, who ran the ball 15 times for 207 yards. He recorded the game's longest run, a 65-yard dash, as well as gains of 53 and 40 yards. He scored two of the Raiders' touchdowns.
"We got great backs, explosive backs," said Mineral Ridge coach Joe Stevens, "and they trust their linemen. The lineman up front are fabulous, they just never quit. They're gutsy guys."
South Range coach Dan Yeagley commended the play of Dickey and his offensive line.
"Alex Dickey had a great game, and our offensive line blocked for him very well, and got him those seams," he said. "He made some nice cuts.
"We made mistakes you can't make in crucial situations," added Yeagley.
After a scoreless first quarter, Baker scored from the 2 to cap a six-play, 75-yard drive for Mineral Ridge.
South Range struck quickly as Dickey ran in from 53 yards, but the extra point kick failed.
A few minutes later, Dickey got loose for a 40-yard gain that gave the Raiders a first-and-goal at the 9. Joey Phillips then scored from the 1 to make it 12-7. Redding scored from the 40 for Ridge, then Dickey's 65-yard run made it 18-14 in the third quarter.