YSU's Brown hits 1,000, and moves on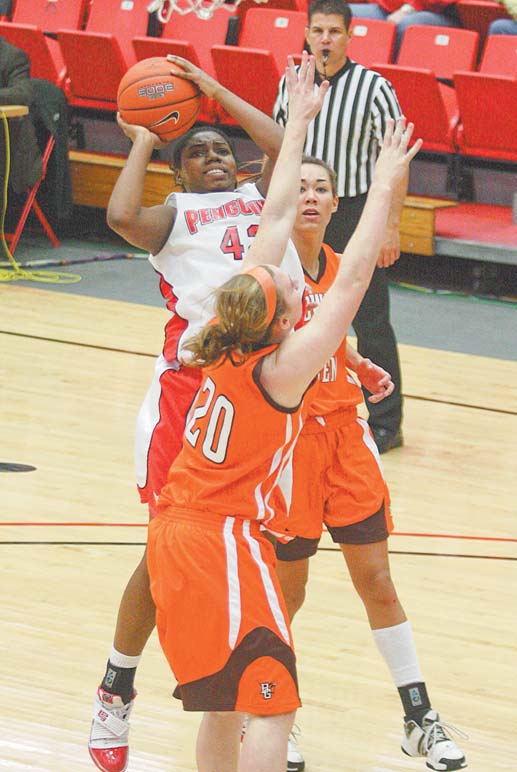 Photo
Brandi Brown of Youngstown State reached 1,000 points for her career last weekend in a victory over Loyola Marymount. She will lead the Penguins against Western Michigan tonight at Beeghly Center.
By Joe Scalzo
YOUNGSTOWN
Brandi Brown only needed to travel 2,400 miles to play in front of her home crowd. She only needed five minutes to reach a career milestone. And she only needed a few seconds to move on.
Playing about an hour from her hometown of Pomona, Calif., Brown, a junior forward at Youngstown State, scored her 1,000th career point on a free throw with 15:06 left in Friday's win over Loyola Marymount in the DoubleTree L.A. Westside Thanksgiving Classic.
"I'm happy it came and I'm happy it went," said Brown, who played in front of a group of loud, screaming, sign-waving fans from Pomona. "Now I just want to play."
Brown became the 17th player in YSU history to attain the milestone and the third-fastest, reaching the century mark in 65 games. (Wanda Grant did it in 50 games, while Dorothy Bowers needed 58.)
After falling to Northern Iowa 90-73 in Saturday's tournament finale, Brown will now prepare to play in front of her other home crowd when the Penguins (3-3) play host to Western Michigan (0-4) tonight.
"It feels good to come home," said Brown, whose team has been on the road for five of its six games this season. "We look forward to playing in front of our YSU fans and the fans that come out and support us when we do have home games."
Tonight's game begins a stretch of four straight against Mid-American Conference teams.
"They tend to be a pretty physical conference by nature, so that'll be good for us," said Penguins coach Bob Boldon. "I think the more challenges you can present to your team in November and December, the more prepared you are for conference play."
Boldon said one of the biggest benefits to playing at home is the chance to play on rims where you spend most of your time practicing and shooting. Then again, YSU shot just 27 percent from the field and scored a season-low 41 points in its only other home game this season — a seven-point loss to American.
"There's no evidence that we practiced or shot on those rims in the last home game, so hopefully this time will be different," Boldon said, smiling.
After tonight, YSU will turn its attention to perennial MAC power Bowling Green on Dec. 6 — "I'm trying not to think about that," Boldon joked — before road games against Akron, Ohio and Stony Brook.
League play opens Dec. 31 against Cleveland State.
"It'll be good for us to play good teams," said Boldon. "That's part of the idea around our schedule. We wanted to make sure we weren't fooling ourselves heading into conference play.
"Our weaknesses will be exposed and hopefully we can get them fixed."