Meyer has no compliance issues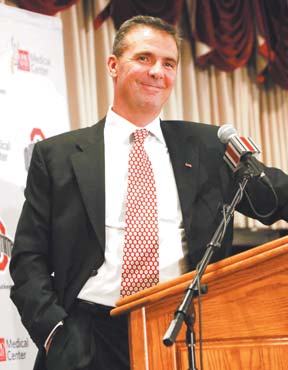 ---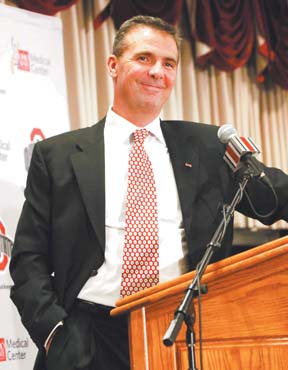 Photo
Urban Meyer addresses members of the media during a news conference Monday at the Fawcett Center on the Ohio State campus in Columbus.
By Bill Rabinowitz
The Columbus Dispatch
COLUMBUS
As Gene Smith vetted Urban Meyer before offering him the Ohio State job, his record on the field was only part of the criteria.
Considering that NCAA compliance failures were the undoing of Jim Tressel and that proper player conduct off the field has been a long-stated priority, those were important areas to examine.
Compliance proved not to be much of an issue, but a spate of player arrests at Florida was.
According to The Orlando Sentinel, 25 Gators players were arrested a combined 31 times during Meyer's six years at Florida. Most of the charges were minor, such as underage drinking, and were dismissed or reduced. But a few were serious, including a felony burglary charge against quarterback Cam Newton. Meyer suspended Newton for the 2008 season. Newton left Florida and resurfaced at Auburn, where he won the 2010 Heisman Trophy and led the Tigers to the national title.
"At the end of the day, one is too many," Smith said of the incidences of crime. "[Meyer] and I had a great discussion about it. We vetted it and did some further investigation on our own and came away feeling comfortable with how it was managed.
"I think people have to consider our environment, how we operate and the things we do. So I think here it will be a little bit different for him."
Meyer was asked about the crime issue during Monday's news conference.
"I know there's been some issues that we've had that I've had to deal with, not that we're proud of," he said. "We have a set of core values — honesty, respect. No. 1, treat everyone with respect. No. 2, no drugs, no stealing, no weapons. Those are core value issues. You're either dismissed or you miss a good bunch of [playing] time."
Meyer said the number of arrests his players had at Florida has been exaggerated. But he, like Smith, said that one is too many.
"Our job as a coaching staff is to mentor, to discipline and to educate young people," he said. "And we've had a pretty good track record. We ran some bumps in the road at the University of Florida.
"Does that mean we had bad kids? I'll fight that [charge] forever. No, absolutely not, we did not have bad guys. Did they make stupid mistakes? Yeah. ... We're going to go really hard and try to recruit really good people to represent Ohio State. That does not mean we're going to give up on kids. So that's kind of the belief we have here."